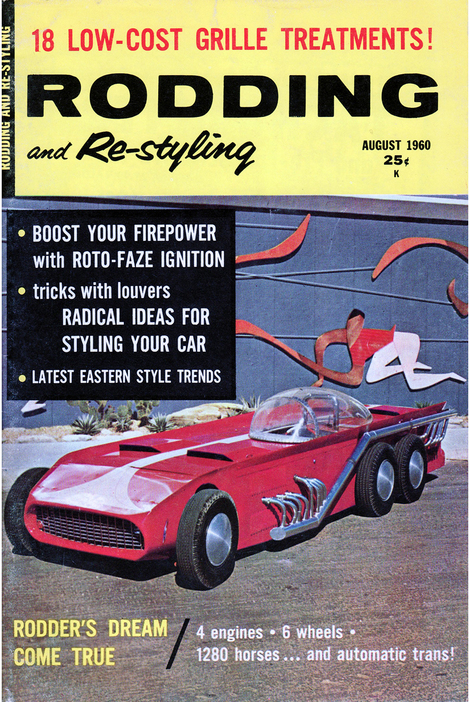 This article is recreated from Rodding and Re-Styling August 1960.
The surest way to give your car a new look is to facelift. Here are 18 treatments that suggest thousands of possibilities.........
by Alex Walordy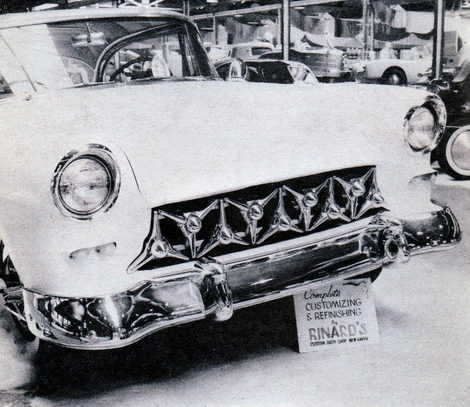 Grille cavity on '55 Chev is lengthened, narrowed, and filled with 9 accessory wheel-disc spinners. Twin horizontal support bars are not readily apparent. Dig the shaped quad parking lights!
SWAP IT, invert it, shorten it, lengthen it, mesh it, chrome it, trim it, reframe it, reshape it, panel it, tooth it, bullet it - but don't just leave it.
Man!
Modify that grille!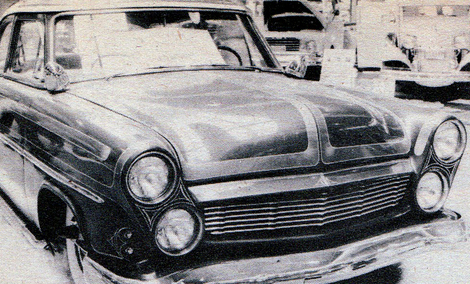 Home-made quad headlights set off neatly panelled-in '56 Chrysler grille in '53 Ford. Shaved bumper furthers the horizontal lines of the front end.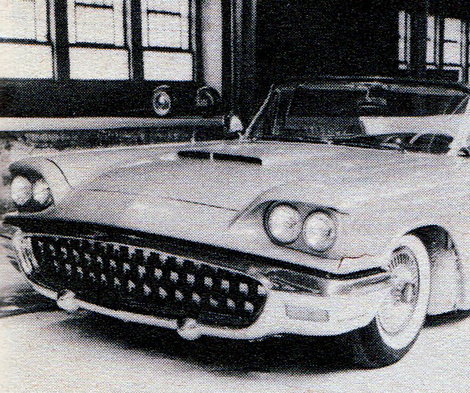 Appearance of late T-bird is drastically changed by mounting door knobs over perforated metal in the stock grille cavity.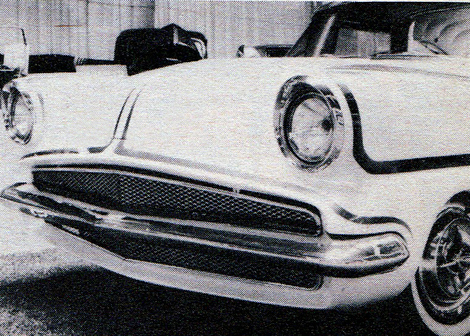 Two molded "53 Stude front pans, one inverted, house chromed mesh grille. Clean bumper is custom-made. The host is a '55 Ford Vicky.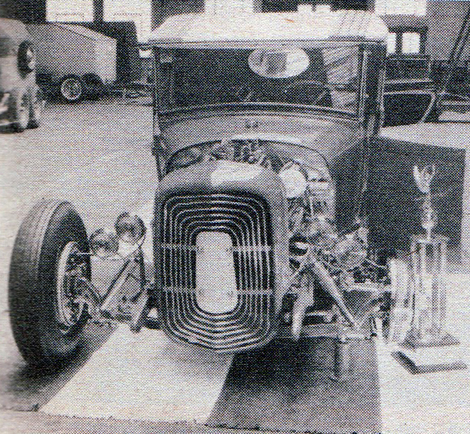 Filled duce radiator shell with hand-formed chromed rod grille leads off on this '29 Ford pickup.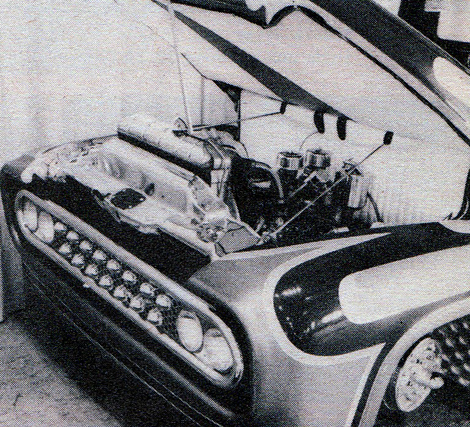 "53 Ford pickup benefits from chromed exhasut-type tubing floating in molded cavity. Tubing frames quad headlights, mesh and accessory bullets.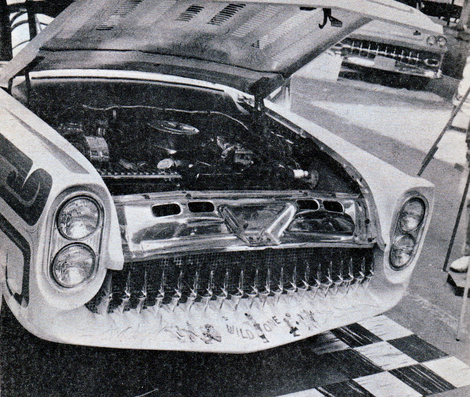 Believe it or not, it's a '54 Merc! Canted quads and frenched Stude pan surround 20 '54 Chev grille teeth mounted on mesh backing.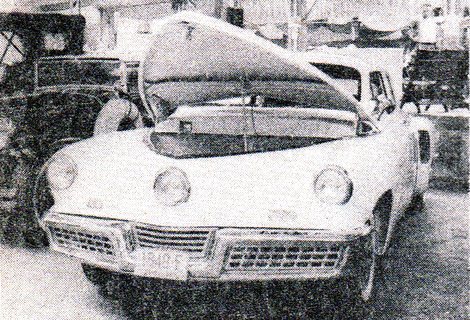 Only fifty '48 Tuckers were made. Front features egg-crate mesh, horizontal struts, thunderbolt-type bumper. Middle light swivels with the steering.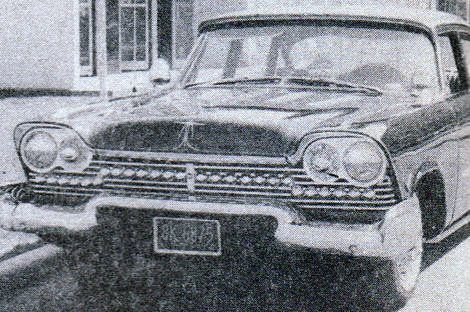 About the easiest modification possible is this example. Stock '57 Plymouth grille is adorned with 26 accessory bullets.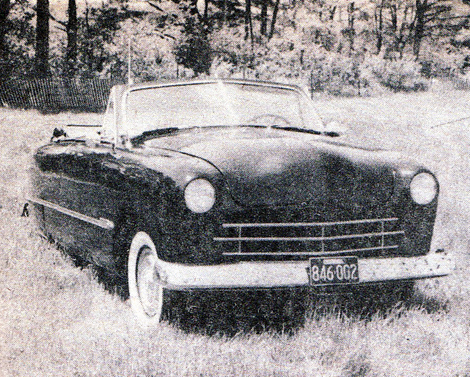 '50 Ford sports frenched '50 Merc grille shell and home-made grille of vertical and horizontal chromed rod. Rounded hood corners and frenched lights are extra.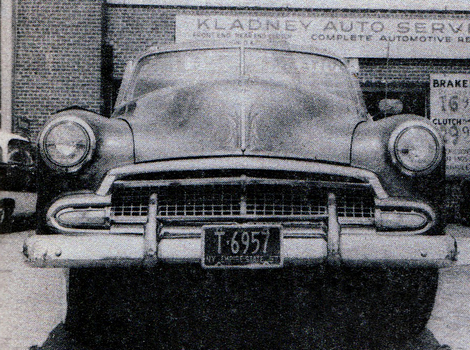 Practically a bolt-on swap is this '55 Ford grille mounted in a '50 Chev cavity. Job entails bit of trimming and bracket fabrication.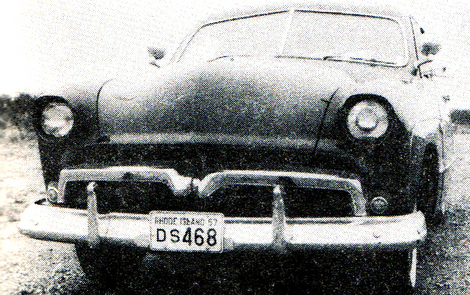 Another simple conversion is this '55 Plymouth into '50 Ford bit. No sectioning or trimming necessary for this operation.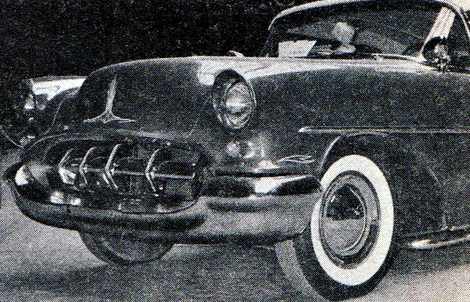 Grille bar from '54 Chev is trimmed to fit stock but de-chromed '54 OLds cavity. This is popular switch for Olds owners.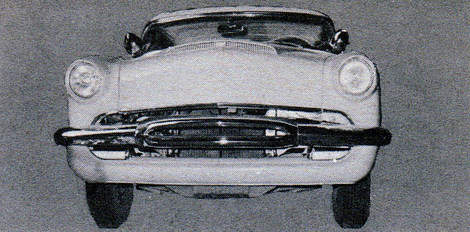 '55 Pontiac bumper ends mate to '54 Pontiac grille center section on '54 Merc. Stock bottom section of Merc bumper is painted in to simulate rolled pan.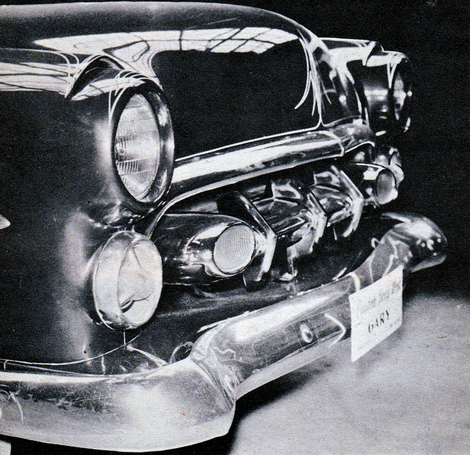 '54 Olds grille bar with three modified '54 Chev teeth in stock grille shell of '52 Ford.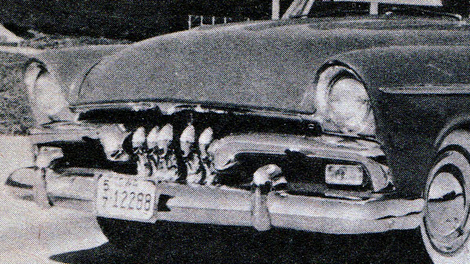 Nosed '53 Plymouth sports neat swap: stock grille ends remain, but center section has been hacked out in favor of the five '52 DeSoto teeth.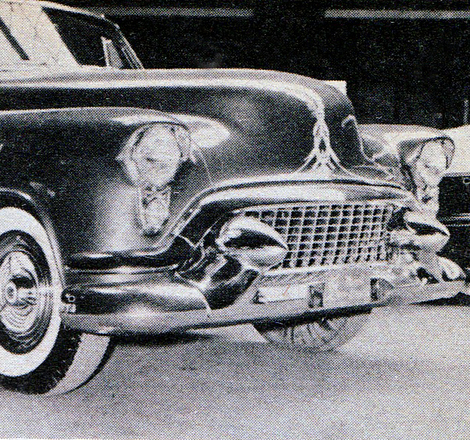 Egg-crate mesh from '55 Chev makes nice fit in '52 Olds front end. Late Cad bullets are adopted to stock Olds bumper.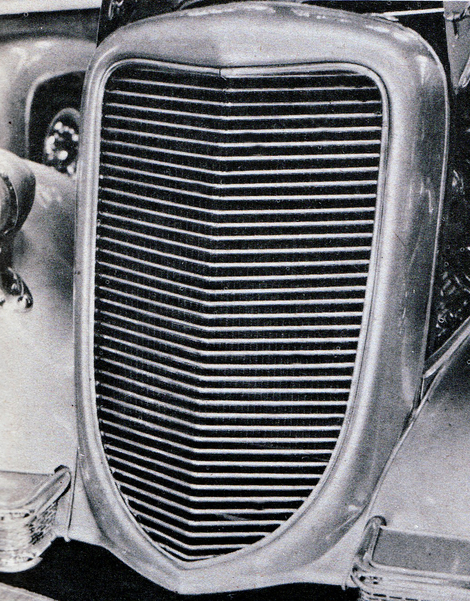 All-time rodders' favorite '32 Ford radiator shell mounts on '35 Ford pickup. Grille consists of chromed rod, V'd to match shell.
Here are 3 examples from the many grilles I still see today at the shows and cruises.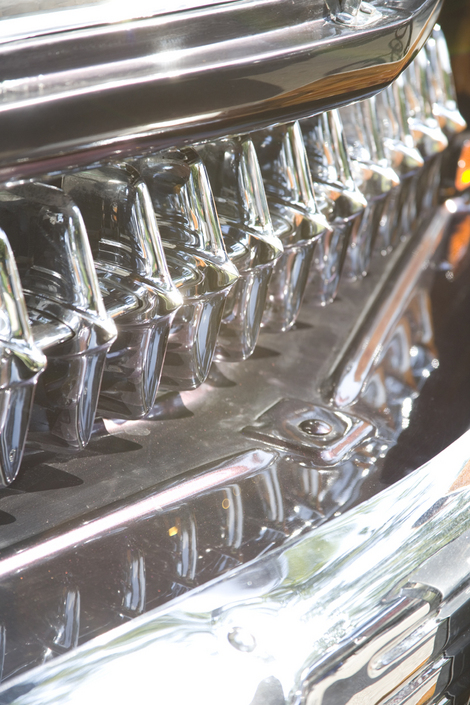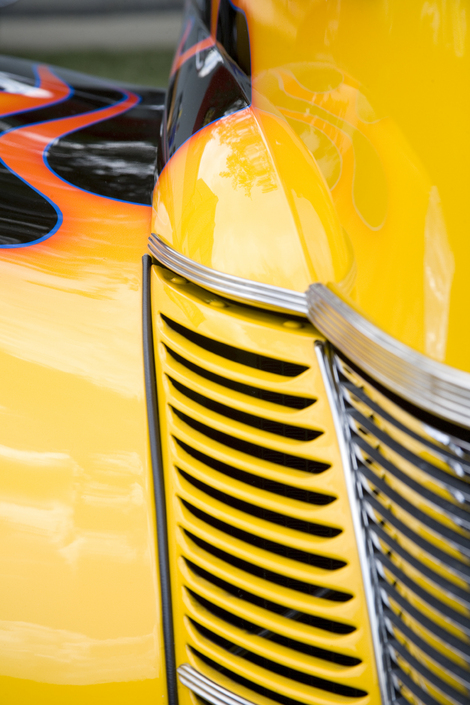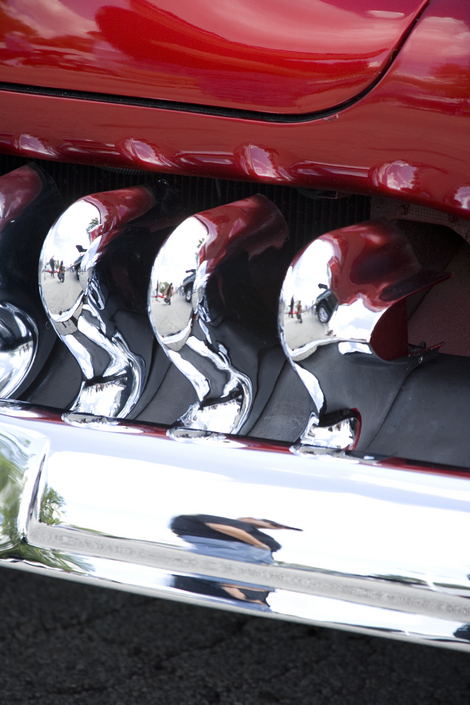 Grilles are such an important part of the look of a car - setting off the front and being the visual cues often for the rest of the ride.
Past or present the styling possibilities are endless - it's the creativity of the fabricator.
Posted 09/24/08 @ 07:20 PM | Tags: hot rod fabrication, Hot rod grilles, custom grilles, show car grilles, Rodding and Re-Styling magazine August 1960, 18 low-cost grille treatments, street rod grilles, 1955 Chevy, 1953 Ford, 1929 Pickup, 1953 Ford pickup, 1948 Tucker, 1950 Ford, 1935 Ford, lead sled grilles