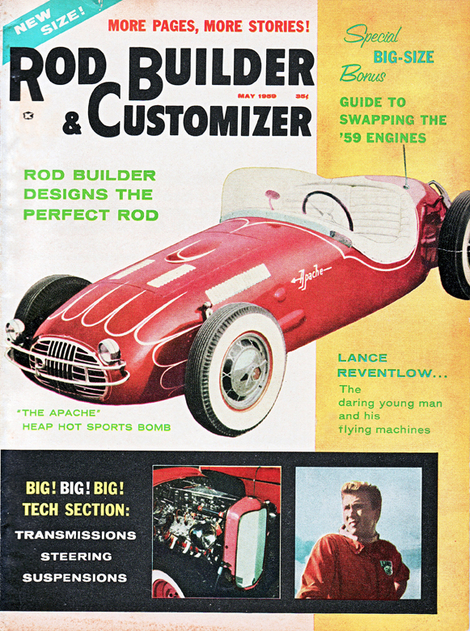 One of my favorite race cars are the Scarabs. They are incredibly beautiful crafted machines that are very fast and were very competitive in their day. Some of the last of the front engined big bore beasts of the track. The Scarab was an ALL-American racer, designed to compete with and defeat the best that Europe had to offer. In its short life and small numbers - only eight cars of four different types built - it accomplished this and had an effect on the public rivaled by few other cars.
Early this year in July at the Kohler International Challenge (which is posted) there was a large contingent of Scarabs for the 50th Anniversary of these legendary race cars. It was wonderful to see and hear these cars on the track. They are rolling sculpture with a mean sound.
This article includes the cast of characters, cars, and controversies involved in the racing community of the time. Carroll Shelby, Lance Reventlow, Joakim Bonnier, Jim Rathmann, but where were the other pros Stirling Moss, Phil Hill, and others? And you have to love that Le Mans start!
SUN, SPEED, and SCARABS
by Eric Wolff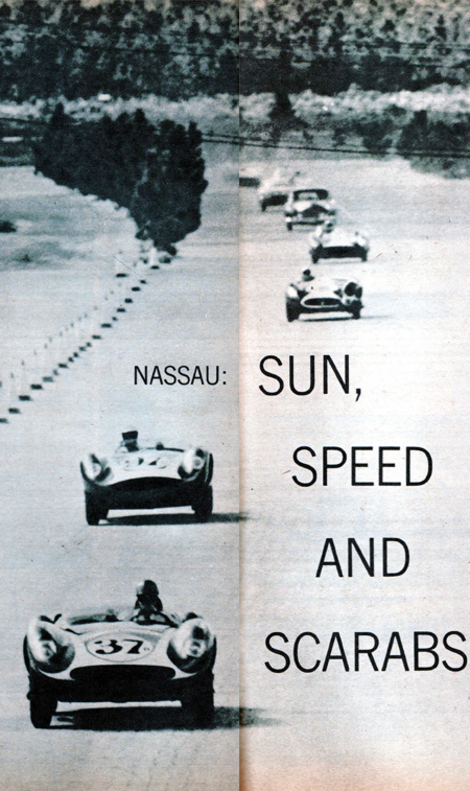 If the Bahamas Speed Week proved anything it was that the team of Reventlow and Daigh was ready for bigger and better things. But where did all the pros go?
The Nassau Trophy Road Races are neither a pro nor amateur event, exactly, and by careful tightrope-walking between the two worlds, the Bahamas Automobile Club has managed to draw some of the best drivers and machinery of both. But the fifth annual Bahama Speed weeks came very near getting neither.
Free transportation and accommodations along with winter racing in the sunny Caribbean had earned Nassau more than 100 entries annually by the fourth meet in 1957, including such top-echelon international drivers as Stirling Moss, Peter Collins, Phil Hill, Carroll Shelby, Masten Gregory, Oliver Gendehien, Joakim Bonnier, as well as most of the better known SCCA drivers. Listed on the FIA calendar, Nassau was becoming an important international meeting, and the sponsors were thinking in terms of applying for Championship status.
The the roof feel in.
First, FIA limited world championship sports-car competition to cars of three-liter displacement, which meant that they would no longer compete in the same class as the big-bore machinery that shows up at Nassau, particularly the Detroit-engined specials which are gaining rapidly in popularity.
Then SCCA went through one of its periodic paroxsysms of conscience and suddenly decided, in June, that accepting transportation and hotel accommodations at Nassau tantamount to driving for profit, and any amateur driver doing so would forfeit his soul - or at least his competitive license.
After some agonizing reappraisal on both sides, the BAC decided that SCCA members who wanted to stay simon-pure could add $50 to the regular $100 entry fee, the difference to take care of transportation for driver and car, and hotel accommodations for two. Under strong pressure from the drivers, SCCA's Contest Board finally, after much backing and filling, reversed itself and decided to allow the new arrangement.
At this point, it became obvious that the pros weren't much interested.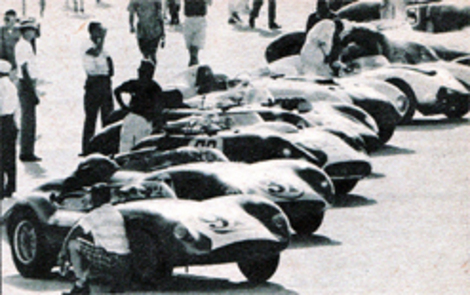 The lull before the storm. The cars are lined up for the Le Mans start. The Reventlow Scarabs are in the foreground. First away from the line, however, was 19-year-old Pedro Rodriquez Jr. in his red-hot three-liter Ferrari.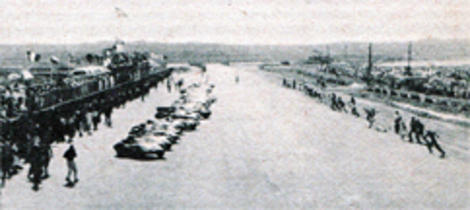 The drivers are on their marks ready for some heavy leg work.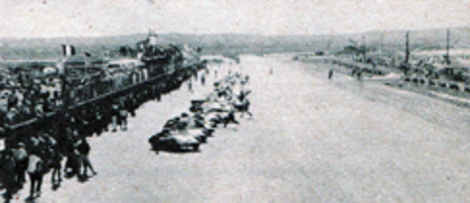 They're off and running! The Le Mans start is a crowd pleaser.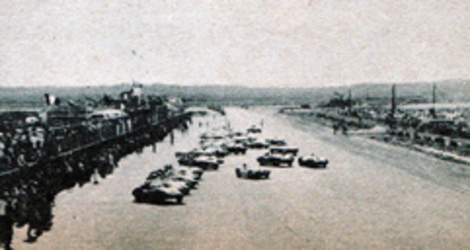 The fleeter of foot get their cars away from the line in a hurry.
While the BAC optimistically predicted that Fangio, Moss, Hill and others of international racing's first team would participate, the drivers were announcing, for one reason or another, that they would not. Fangio made it quite clear that he had no slightest of intention of coming out of retirement to race at Nassau. Collins and Musso had both been killed during the European season. Gregory, injured at Silverstone, would not be in shape to drive in time for the meet. Hill who hates cold weather and had been miserable in last year's unseasonable chill at Nassau, could see no reason to leave sunny Santa Monica to go racing for mere silverware. And Moss, the two-time Nassau winner who owns a home on the island, was asking for $2,000 in lieu of the month's all-expense-paid vacation in Nassau that he was used to. Neither the BCA the Nassau Development Board, not anyone else involved in the promotion, was inclined to pay.
In the long run, the only drivers of international reputation who filed entries were Carroll Shelby, Joakim Bonnier, and Monza winner Jim Rathmann. But in spite of all the hassles, there was a pretty good field, largely because some very interesting machinery turned up.
The trend toward big-bore American engines was apparent in a line-up which included Lance Reventlow's potent team of Chevrolet-powered Scarabs, with Reventlow and Chuck Daigh driving; John Edgar's 6.3 liter Pontiac powered Maserati, piloted by Rathmann; two Sadler Chevrolet Specials with Boris Said and Allen Markelson listed as drivers; "Jake" Jacobs' Ferrari-Corvette and even a Bahmian owned MGA-Corvette.
In addition Shelby was back with the big John Edgar-Temple Buell Maserati that Masten Gregory drove last year. Originally a 4.5, the car was bored out to 4.7 when Gregory drove it. later to 5.2 and finally a whopping 5.7 liters.

Ed Crawford's 4550-cc Maserati leads E.D. Martin's Ferrari through a turn.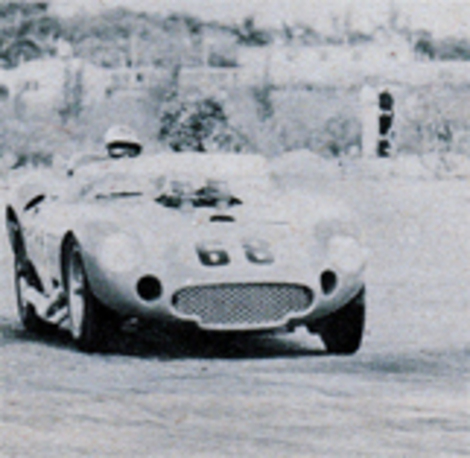 Jim Rathmann, at the wheel of Maserati-Pontiac.
Pedro Rodriguez, right ahead of George Constantine's Aston-Martin.
Bruce Kessler, who had been reported joining the Reventlow equipe, came instead with Edgar's very reliable 4.9 Ferrari, nicknamed "the Old Beast," which won 45 races since it first ran at Seattle four years ago.
The Mexican whiz kids, Pedro and Ricardo Rodriguez, were back, the sensational 16-year old Ricardo with his RS Porsche and 18-year old Pedro in the ex-works 2.9 Ferrari that won LeMans last June.
SCCA class B champion Jim Jeffords had brought, along with his violent purple fuel-injection Corvette, case after case of plastic "Purple People Eater" hats which soon began appearing all over the island. Bearded young Ulf Norinder of Sweden had arrived with his friend, bearded young Joakim Bonnier of Sweden; Norinder had a two-liter Maserati, Bonnier was looking for a ride. A brace of matched Testa Rossa Ferraris were neatly turned out in yellow with a double longitudinal blue stripe, Cuba's racing colors. Most interesting of the small-bore machinery was the Mitchell Special, a 748-cc SAAB-engined job with a Devin fiberglass body, driven by Oliver Schmidt.
The Oakes Field course was rearranged for this year's event. Although the basic 4.5-mile layout is the same as last year, the direction of traffic has been reversed to the standard clockwise pattern, so that to the drivers it was a complete new track. Widths are now 50 feet for straights and 75 feet on the turns, and special pit entry and exit lanes have been laid out to make interference with traffic impossible. The course is marked by small evergreens planted at one foot intervals (cornstalks were used on some of the back sections when the supply of "Christmas trees" ran out), and turns are marked by palm trees, flower beds and white course markers.
But for a while it looked as though everyone might have come in rain. After a short practice period on Saturday, Nov 29, the sky opened. The Nassau Tourist Trophy race, schedule for Sunday, was rained out. Rescheduled for Tuesday, it was rained out again and postponed until Thursday, which packed the schedule with a solid lineup of races for the final four days of the meet.
Thursday noon ten Berkeleys lined up for the first race, under lowering clouds that threaten as imminent downpour. Despite Capt. "Red" Crise's repeated declaration that he would allow neither practice nor racing in the rain, they were flagged away. Moments later a tropical cloudburst nearly washed the little roadsters off the course, but they floundered gamely along for the scheduled three laps wipers flailing away in a vain attempt to cope with solid sheets of water. David Albury won in 16 minutes, 34.072 seconds, averaging 48.857 mph for the 13.5-mile race.
Next on the card was a GT race for cars under two liters. The rain had stopped, and Duncan Forlong of Tampa, Florida, set a 70.19 mph pace as he splashed his AC-Bristol to a half-mile lead in five laps, despite spinning out on the first circuit.
Another five-lapper, for the GT cars over two-liters, followed immediately, and Jim Jeffords loafed to an easy victory over a field of seven in his flashy Corvette, at a 71.487 mph average.
A little later Jeffords showed the speed that brought him a national title by running away from 20 rivals in the day's main feature, the 25-lap Nassau Tourist Trophy race. He gave a demonstration of driving precision along the way, driving five consecutive laps of the 25 at exactly 77.884 mph. His final average was 76.741 mph, George Constantine, in Elisha Walker's green Aston Martin coupe, was second overall and first in Class D, and Forlong's hot AC-Bristol won Class E with a third-overall finish.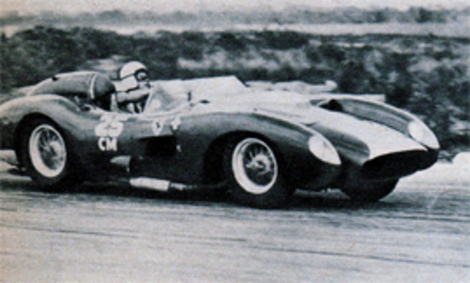 Top entrant Gaston Andrey in a Ferrari.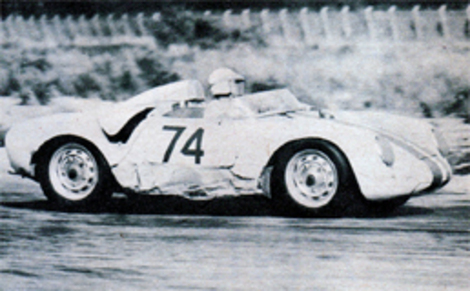 Top entrant Don Sessler in a mangled Porsche RS.

Whoops!! Roy Schecter spins out into the scrub pine in his Porsche RS.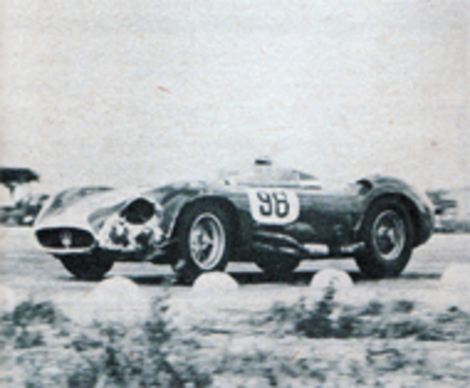 Carroll Shelby in Edgar-Buell Maserati.
Night practice, which had been scheduled for Thursday evening, was cancelled and an extra cocktail party fitted into the schedule instead, along with a firm promise from race officials that Sunday's 252-mile Nassau Trophy Race would be started early enough to finish in daylight.
Friday was bright and sunny, and little Ricardo Rodriguez opened the ball by easily mopping up a field of 23 entries in a five-lap heat for cars under two liters. His 1498-cc Porsche RS left six Class E cars as well as three other Class F entries behind it as the 16-year old Mexican prodigy matched Jefford's precision of the day before by turning three laps running at precisely 83.505 mph. Ricardo toured the 22.5 miles in 16:19.22 for an 82.718 mph average. Ulf Norinder, fastest of Class E in his 1.9 Maser, was 21 seconds behind him at the finish.
Then the big boys got their first outing, in a five-lap heat for cars over two liters. The biggest threats, the Scarabs, Shelby's big Maser and Rathmann's Maserati-Pontiac, were held out for the feature race later in the day. George Constantine took the race with his ex-Moss Aston Martin DBR2, averaging a warm 87.521 mph. Pedro Rodriguez, vastly improved since last year, was breathing right down his tail-pipe through most of the run, and finished just eight seconds behind Constantine.
The beautiful Sadler specials had just arrived after a harrowing trip from Canada, during which they were snowed in at Buffalo for two days, and Allen Markelson took the older car out on the course for the five-lap-per. He got in one lap before spinning out on the British Colonial loop.
Then it was time for the Govenor's Cup Race, second-ranking event of Speed Weeks, and the big machinery rolled out. The two magnificent, metallic-blue Scarabs, with Reventlow and Daigh driving; Boris Said in the brand-new Sadler Mark lll car, running as the Nisonger-KLG Special; Bruce Kessler in the 4.9 Ferrari were lined up at the front of the grid, heading a 33-car field that stretched almost to the back end of the pit straight. As the starter, be perched high on the Esso Bridge near the end of the straight, dropped the Union Jack (used instead of a green flag at Nassau races), the big field in an ear shattering blast of sound. The Scarabs were twin blue streaks out in front of the pack, and they were still there as they came around at the end of the lap. Daigh setting the pace with an 88.524 mph standing lap. Next time around he broke the course record with a 92.571 mph circuit of the 4.5-mile, 18-turn layout.
Pre-race confab finds Reventlow, Daigh, Rathmann and Shelby going over the men and machines that are on hand for the action.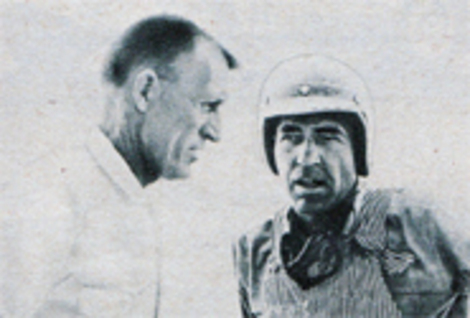 Carroll Shelby plots race strategy with chief mechanic for the Edgar-Buell Maserati, Joe Landaker.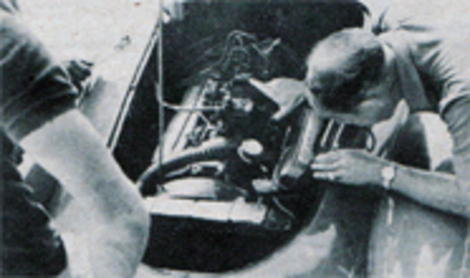 A very special MGA absorbs the attention of Jim Rothmann, BMC bomb boasts a Corvette engine under its hood.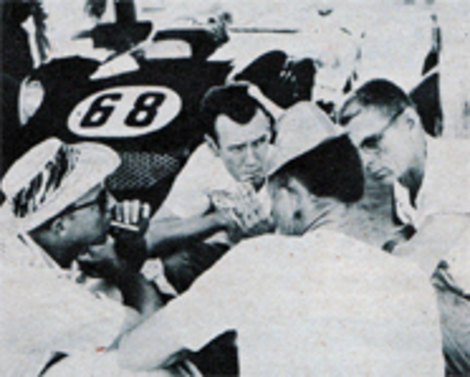 Council-of-war presided over by Jim Rothmann finds Joe Landaker in a non-functional Purple People Eater chapeau.
Troubles started early, with Jeffords' purple bomb pouring a cloud of blue smoke as it passed the pits on the fourth lap with transmission trouble, and Bob Said came in moments later with steam pouring from a punctured radiator. Also on the fourth lap, Daigh retired with a broken half-shaft, and Reventlow moved into the lead, seven seconds ahead of Constantine's Aston. ED Martin's 2.9 liter Ferrari was running third, Pedro Rodriguez was next in another, and Ed Crawford of Lister-Jaguar fame was fifth in a 4.5 Maser.
By lap seven, Lance had built up a six-lap average of 90.502 mph and was lapping slower cars. By the 11th trip, he had lapped all but the first eight cars and eased off to an 89.305 average. On the 12th, Pedro Rodriguez pulled up on Martin and the two Ferraris dueled their way down the Sassoon Straight. Martin spun out on the tricky esses at the end of the straight, leaving Pedro in firm possession of third place.
Constantine held second place through a ten-second pit stop to check a troublesome gearbox. Reventlow, who had elected to finish the 112.5-mile race without a stop, stripped third gear on lap 20, and drove the last five laps in fourth. Since he had a healthy lead and was easing off anyhow to preserve his tires, this was not tragic. Pedro Rodriguez blew a tire on the 23rd lap and lost two places despite a lighting wheel change.
That was it - Reventlow took the checker in 1:16:8.2 with a 25-lap average of 88.642 mph. Constantince, nearly a minute behind, led Class C. Pedro Rodrigeuz was fourth and won Class D, and young Ricardo just behind him, won Class F. Class G winner was Floyd Asskov's 1100 Lotus, 13th overall and John Mull, far back in 21st place with his 750-cc OSCA, won Class H.
While the big-bore machinery had a day off, Saturday was occupied with the ladies, the natives and the individual marques. There was a two-heat ladies' race, a Porsche race, a Ferrari handicap race, a two-heat Austin-Healey race, a two-heat island race. Ricardo Rodriguez, of course, won the five-lap Porsche race almost without effort, but provided a minor kick for the spectators as his engine sputtered and died just as took the checkered flag. The car was pushed back to the pits - out of gas!!!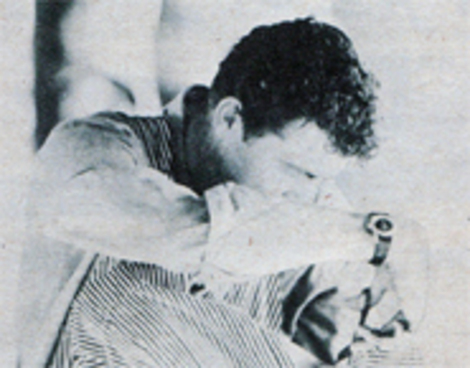 Carroll Shelby makes sure that he'll be sartorially resplendent by scissoring off excess length from coveralls.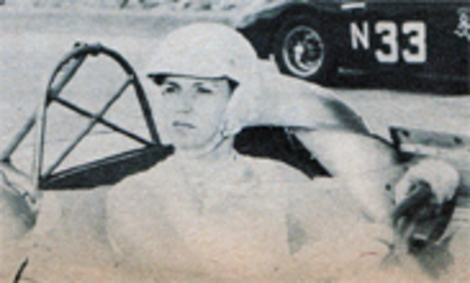 Despite McCluggage, sports writer and distaff sports car driver, looks grimly determined behind the wheel of Jim Lowe's Lotus.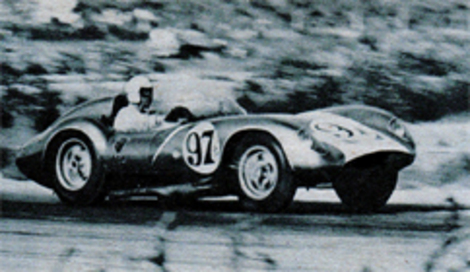 Chuck Daigh at the wheel of the Mark ll Scarab only survived three laps in car, later relieved Lance Reventlow, and went on to win race.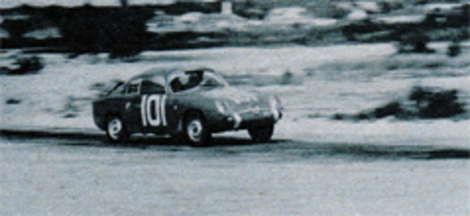 Study in stark contrasts was provided by King Moore in his Fiat Abarth who picked up some of the class H hardware - first in the Tourist Trophy Race.
The ladies' race got some extra color with the arrival of Denise McCluggage, last years winner. Without a car of her own, Denise borrowed Jim Lowe's Lotus. His wife Marion, was driving an identical Lotus. Evelyn Mull, more familiar as an AC Bristol pilot, was driving a third Lotus, and Fifi Fleming was in a fourth. Neither Denise nor Evelyn had ever driven a Lotus before, and Denise had yet to drive the Oakes circuit in the new clockwise direction.
As they flagged off, Evelyn Mull jumped into the lead. Denise struggled to start the unfamiliar car as the field buzzed by her, then took off furiously to catch-up. But she spun out on the second lap as the gearshift knob came off in her hand in the middle of a downshift, leaving her with no power to pull through the esses. Mrs Lowe finished 45 seconds in front as Mrs Mull developed engine trouble on the fourth lap.
This made the second heat a handicap race - Evelyn had to finish more than 45 seconds ahead to win on aggregate time. Miss McCluggage, who could not win because she failed to finish the first heat, drove the second one pour le sport and in a remarkable performance for a driver who had a total of 1.5 laps' experience with both her car and the course, won the heat easily with an impressive average of 78.046. The suspense was provided by Mrs Mull's valiant but vain attempt to overcome that 45-second handicap. She failed - by only three seconds! - and Marion Lowe was the official winner of the two heat race.
The five-lap Ferrari race was a handicap race from the beginning. The two Cuban Testa Rossas, driven by Santiago Gonzales and Manuel Perez Mesa, were given a 50-second head start to give their two-liter engines a chance against the bigger cars. But ten seconds a lap wasn't nearly enough. Bruce Kessler's 4.9 and Pedro Rodrigeuz' three-liter, dueling furiously as they went, ate up the Cubans' lead like candy. By the third time down the straightaway Kessler was in the lead, scorching around the track at an 89.010 mph average. His overall average of 82.706 mph included 50 seconds sitting still on the grid while the Cubans took their lead!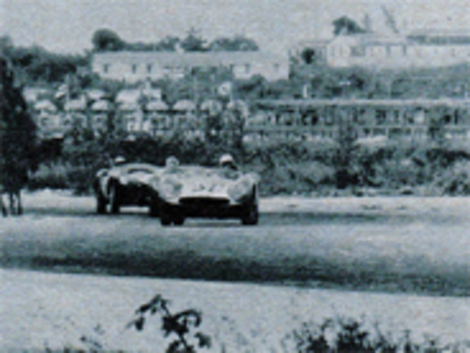 Chuck Daigh, now in Scarab Mark l leads pack around turn.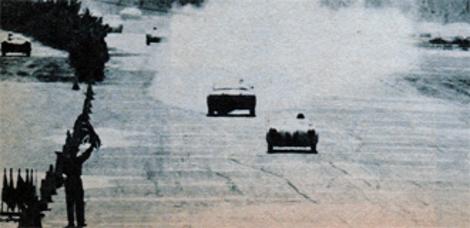 Dramatic moment occurs when Jim Jeffards' Purple People Eater is flagged in trailing billowing clouds of smoke.

Kessler leads Pedro Rodriguez around a turn.
The Austin-Healey race was dominated by the islanders, with Peter Bethell winning the first heat and Tony Adams the second, and Bethell winning an aggregate time by 20 seconds. Bethell repeated the performance by winning both heats of the island race, finishing the last two laps with headlights on as the tropic dusk dropped over the track.
Sunday morning it was clear to all that the Development Board's luck had held, as the day's events began in bright sun and a light breeze. The ten-lap Bahamas Cup race, for natives only, was predictably won by Bethell, with Mario Parotti and Jihn Moore 44 and 47 seconds behind him.
Most of the big machinery elected to sit out the Nassau Memorial Trophy Race, a 12-lap secondary feature before the main event, but Bill Sadler decided to run both of his cars, which had been put back in shape by day-and-night labor after their Friday troubles. Bod Said was driving the new Mark lll, and former SCCA champion Paul O'Shea was in the Mark ll. Their bad-luck streak held, as Said, who had seized the lead after a pace-lap start, came into the pits at the end of the first lap pointing frantically to his face - his bubble visor had blown off! No sooner had he roared back into the race wearing a pair of Sadler's goggles when O'Shea came in - his distributor cap hadn't been clipped tight and his engine was cutting out. This time Sadler took the car out, and he was no sooner on his way than Said was back in the pits, with fuel pouring out of his tank. Pushing furiously to make up the seven places his pit stop had cost, he had spun out, hit a course marker and knocked a fuel fitting loose. Sadler came back in to help, only to discover that the left rear stud-axle was bent.
Meanwhile, out on the course, ED Martin was managing to keep his 2.9 Ferrari out in front of Ed Crawford's 4.5 touring the 54 miles in 36:39.41 for an 86.631-mph average, a checkered flag and silver cup. Crawford finished 13 seconds behind him and third car, Jim Jeffords' trusty purple Corvette, followed two minutes, 27 seconds later.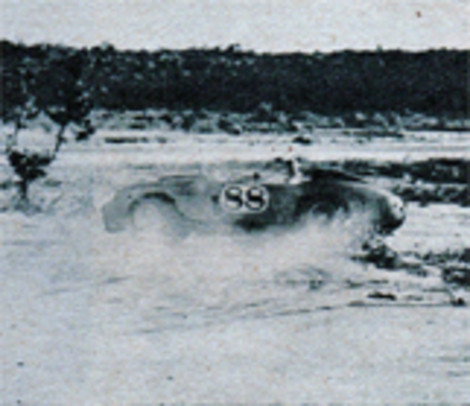 Bruce Kessler spins out in his Ferrari.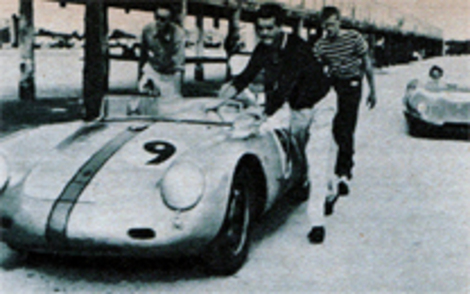 Ricardo Rodriguez's Porsche gets pushed into the pits after winning Porsche race. Rodriguez's car had just enough gas to finish.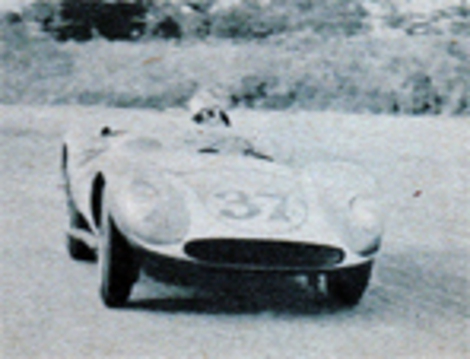 Lance Reventlow pushes his Scarab into the lead before turning it over to Chuck Daigh.
Then it was time for the big one, the Nassau Trophy Race. Attendance had been sparse all week, but now the Promenade Club grandstand atop the pits was jumping, and spectators lined the straightaway and nearer turns, many of them fully equipped for an all-day picnic. Stirling Moss, who had not come out to the track for earlier races, was on hand and unable to keep entirely out of things, took over pit operations for Constantine's Aston-Martin, the car Moss drove last year.
Strung out along the pit apron were 36 cars, their drivers lined up across the track for the Le Mans start. At the head of the line were two Scarabs, Shelby's 5.7 Maserati, Rathmann's 6.3 Maser-Pontiac, George Reed's 5-liter Ferrari, Sadler in the Mark ll Sadler-Chevrolet, Contantine's 3.9 Aston-Martin, Kessler's, Martin's, Crawford's and Pedro Rodriguez' Ferraris, and the rest of the field pretty much in order of engine size. As the Union Jack dipped, high on the Esso Bridge, the drivers sprinted across the track and vaulted into their cockpits, and Oakes Field shook with the roar of high-powered engines as the cars streamed down the straightaway, with fleet-footed young Pedro Rodriguez out front. As they came around for the second lap, it was big Carroll Shelby leading in his big 5.7 Maser, with Pedro a car-length back and Chuck Daigh hot on their tailpipes. Reventlow was in the pits, where his crew frantically tightened his hood straps, not properly fastened at the start. He roared back on the track in tenth place.
By the end of the third lap, the picture was changing fast. Sadler had retired his car, which was not handling properly because of Friday mishap, and Rathmann was out with a bad head gasket. Reventlow's crew held up a board reading "CHUCK OUT - 36", to let Lance know that Daigh was out of the race (with a broken half-shaft) and he was 36 seconds behind the front runner Shelby. Pedro was still second, Constantine third, Kessler fourth, and Reventlow now up to fifth.
On lap seven the scorching Scarab passed Kessler and was gaining a second lap on Shelby. On the tenth Constantine pitted to have a dragging tailpipe wired up, and Lance was third. He forged past Pedro on the 11th and bore down on Shelby, who had averaged 88.669 mph for the ten laps.
Then, on the 15th circuit, Shelby came in with a shredded tire. After a 28-second wheel change, he couldn't restart his engine. By the time the trouble was found and corrected (it was a broken battery terminal), Reventlow was more than two 4.5 mile laps ahead and it wasn't worth the trouble.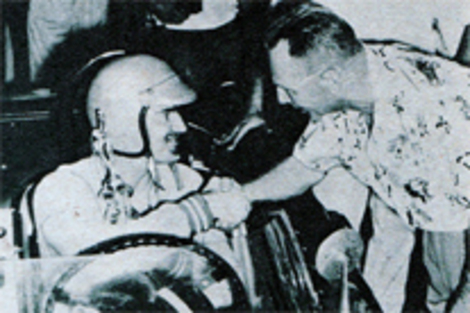 Jim Jeffards accepts award for winning Tourist Trophy Race in his Corvette. Jim also won a preliminary 5-lap race.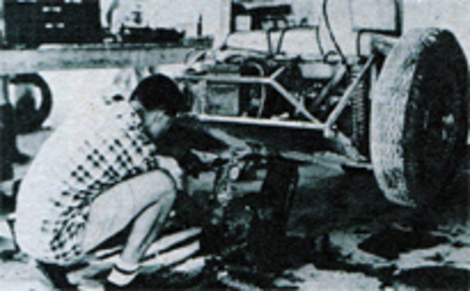 Bill Sadler attempts to stem tide of gasoline leaking from his Nisanger KLG-Special. Trouble turned out to be faulty seal.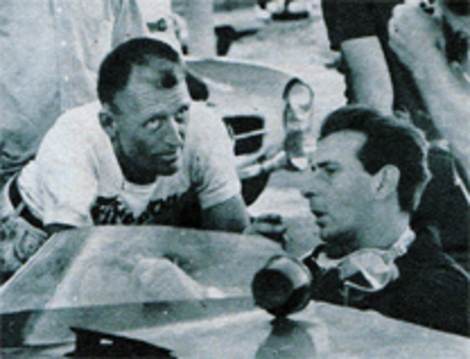 Bruce Kessler discusses his Ferrari's faulty gearbox and transmission with Landaker who saw all his cars fall by the wayside.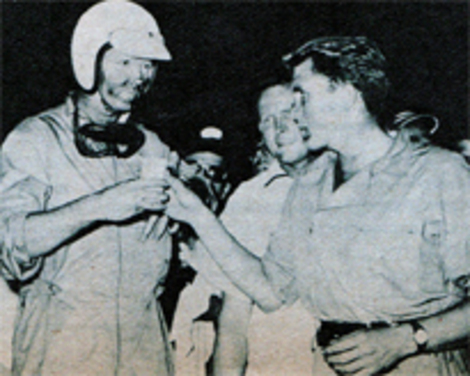 To the victors go the loving cups. Daigh and Reventlow congratulate each other on their success in the big go.
From there on it was all Scarab. At the halfway point Reventlow made a planned pit stop and his blue bomb got fresh gas, tires, and driver, as Lance handed over to Chuck Daigh according to pre-race agreement.
Kessler was out by lap 27 with transmission gone, the 14th driver to leave the race. Pedro Rodriguez driving a magnificent race, was only six seconds behind at the 30-lap mark. By the 33rd Daigh had lapped all except Pedro and third place ED Martin. On the 46th, he lapped Martin too. Pedro who had made a couple of quick pit stops, was now far behind. That was the story at the finish - Daigh crossed the line all alone, clocking 2:52.48.18 over the 252-mile run, for an 87.549-mph average. Pedro came in a minute and 50 seconds later for well-earned second overall and first in Class D. Martin was third, Crawford fourth.
As Daigh and Reventlow happily gave each other credit for the win, wide grins creasing their faces because of the Scarabs' sweep of the two major events. Lance announced that the cars were up for sale - his organization would now concentrate on their new Formula l car, already under construction. The price $17,500 each for the hottest sports cars ever built in this country, reputed to have cost $55,000 each to build and develop.
All in all, it had been a sucessful meet despite the dearth of first-rank international drivers, thanks to the Scarabs. But it might well be the last time Nassau would draw any major professional enteries at all. Most of the old racing hands present agreed with Moss that there's no good reason for a leading professional driver to give away his services, and a number of pro drivers said they had no intention of doing it any more. With pro sports-car racing growing fast in the US, Nassau may well become the last big international amateur event.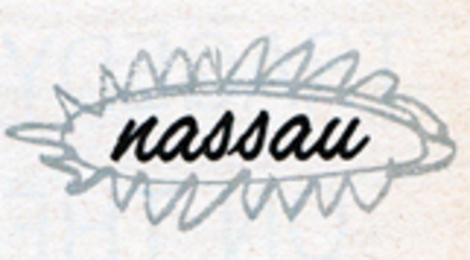 Some historical perspective of the event.
The vision of one man, Captain Sherman 'Red' Crise formed the basis for what was to become the Bahamas Speed Weeks, a series of motor races held on the island of New Providence in the Bahamas. They started in the mid 1950s and continued for 13 years, before ending due to a mix of political decisions, ill fortune and a shift in the direction motor racing had taken over that period of time. These years were described by many commentators as the 'Golden Age' of motor racing, where internationally acclaimed drivers attended the Speed Weeks to mix with the many amateur racers from America who came to enjoy the senario of sun, parties and racing. For many drivers the social scene was as important as the racing, and in latter years prize money was an extra incentive to turn up.
Some historical information on the Scarabs.
Scarab was an all-American open-wheel race car and sports car constructor from the USA featuring cars designed and built by Tom Barnes and Dick Troutman for Reventlow Automobiles Inc, owned by Lance Reventlow.The chevrolet engines were built by Traco Engineering (Jim Travers and Frank Coons). Nicknamed "The Rich Kids", builders of the famous consecutive winning Indianapolis 500 race cars driven by famed driver Bill Vukovich. And the highly publized winning Ford T-birds at Daytona in the late fifties. Troutman and Barnes was most successful building sports cars for amateur road racing in the USA in the 1950s. Chuck Daigh drove the Scarab sports car to victory in the 1958 Riverside International Grand Prix, beating a field of international factory teams including famous race car driver Phil Hill and the Ferrari Team. Carroll Shelby drove the Scarab sports car to victory at the Continental Divide raceway in Castle Rock Colorado setting a new course record. Scarab made an ill-fated entry into Formula One during the 1960 season with front-engined cars, which by then, were nearly obsolete. The engines in these front engine cars were 4 cylinder units similar in layout to the Offenhauser, but entirely of Scarab's own design. They featured Desmodromic valve gear similar in design to that found on the Mercedes engine of the period and were built and maintained by Chuck Daigh. The engines were the achilles heel of the team as the Desmo gear could not cope with the large amount of movement in the engine block and would reliably pull the valves closed too far resulting in failure. Scarab participated in five Grands Prix, entering a total of nine cars. Reventlow was joined by his engineer Chuck Daigh in piloting the blue and white liveried cars. Both Scarabs were entered in the Grands Prix of Monaco, Holland, Belgium, and France, while only Daigh's car was entered in the American Grand Prix. It should be noted that Daigh, while entered in the Dutch Grand Prix, did not race due to payment issues. The highlighted races on the below table display the grands prix in which they appeared. The following year Chuck Daigh went on to pilot one of the Scarabs in International Formula racing in Europe where he finished eighth, at Goodwood vying for the Lavant Cup, and finished seventh in a bid for the International Trophy. A rear-engined single-seater car was built, but never raced in a Formula One event, it ran once in Formula Libre race at Sandown Park in Australia with a Buick V8 engine.
A couple of shots I took at Road America in July of the 50th anniversary of the Scarabs.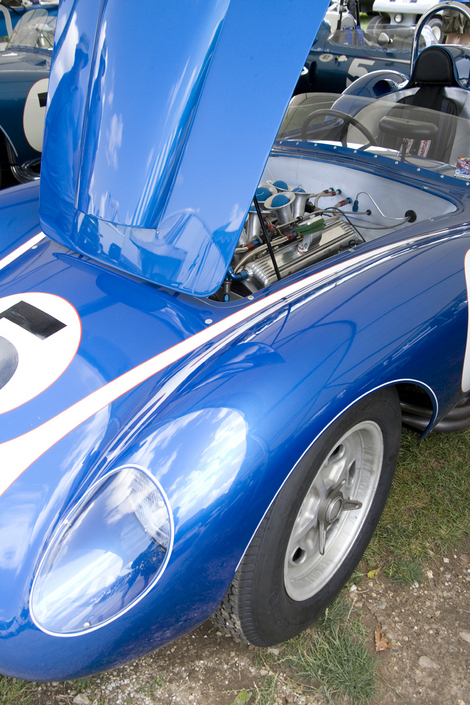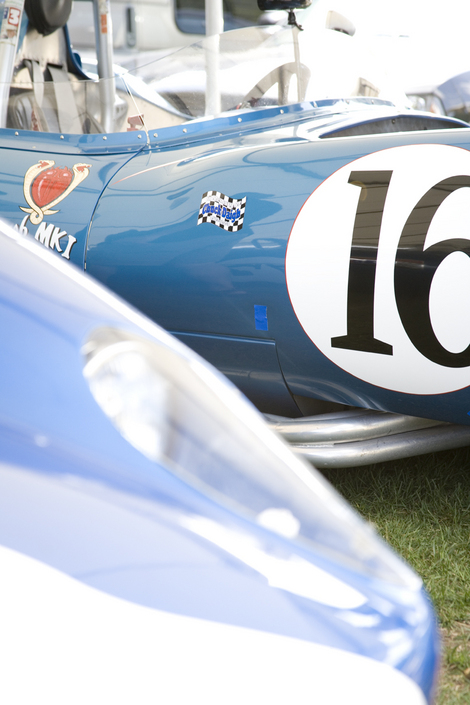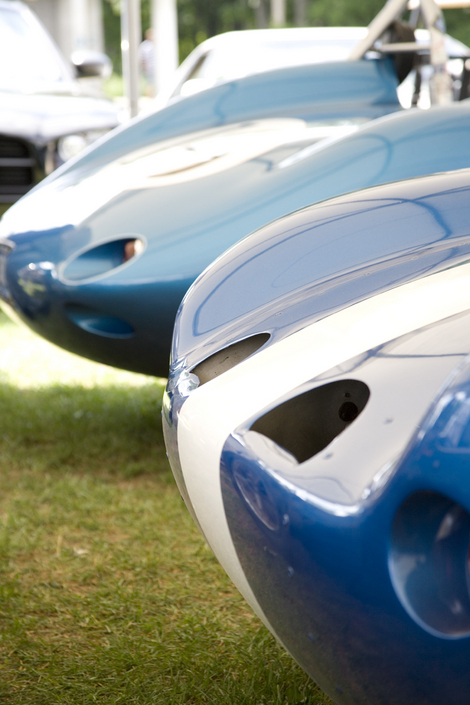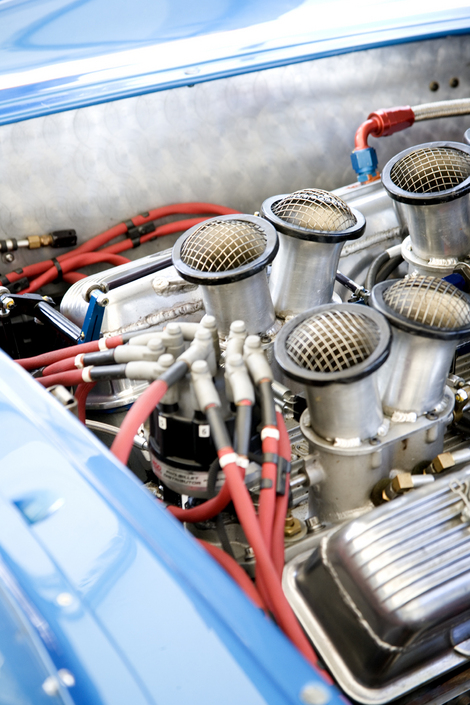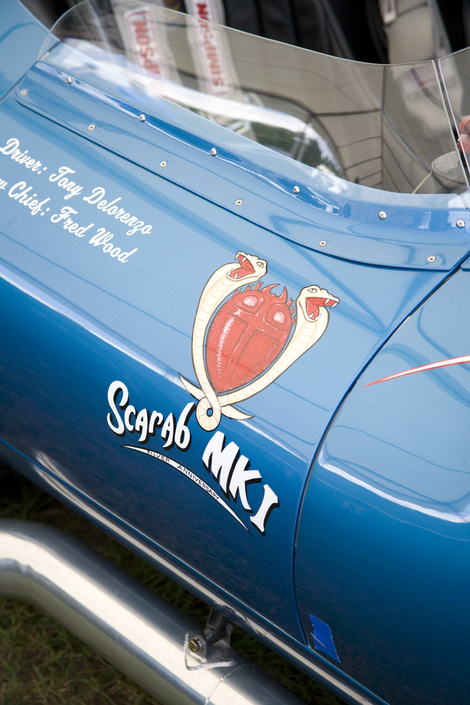 Posted 10/27/08 @ 01:54 PM | Tags: Bahama Speed Week 1959, Rod Builder & Customizer May 1959, Carroll Shelby, Lance Reventlow, Stirling Moss, Phil Hill, Peter Collins, Scarab, Joakim Bonnier, Denise McCluggage, Jim Lowe, Evelyn Mull, Nassau Speed Week, Nassau Trophy Race