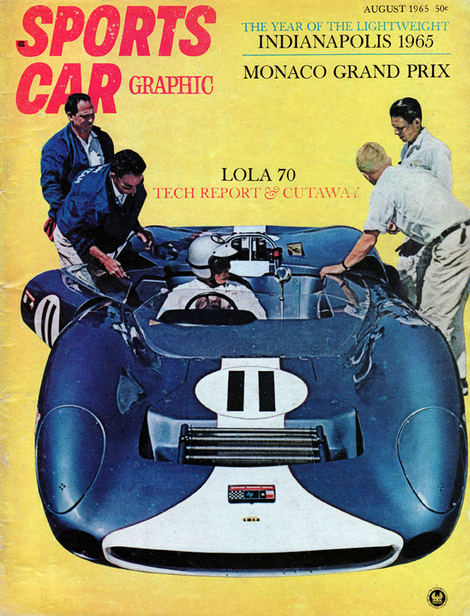 Lola Racing Cars is a racing car engineering company founded in 1961 by Eric Broadley and based in Huntingdon, England. Lola started by building small front-engined sports cars, and branched out into Formula Junior cars before diversifying into one of the oldest and largest manufacturers of racing cars in the world.
Eric Broadley (born 22 September 1928) is a British entrepreneur, engineer, and founder and former chief designer of Lola Cars, the motor racing manufacturer and engineering company. He is arguably one of the most influential automobile designers of the post-war period, and over the years Lola has had a hand in many high-profile projects in Formula One, IndyCar, and sports car racing
Lola is one of the best-known names in automobile racing. A subsidiary of Lola is the rowing boat manufacturer Lola Aylings. Lola was acquired by Martin Birrane in 1998 after the unsuccessful Lola MasterCard attempt at Formula 1.
LOLA 70
It's one of Britain's new breed of American-engined Tiger's!
by John Blunsden
IF TECHNICAL VARIETY IS THE KEY TO THE SUCESS OF A CLASS OF RACING CAR, then Britain's new breed of American-engined sport cars are in for a good time. Of the three manufactures most closely involved (Lotus, McLaren and Lola) each has solved the problem of keeping the driver and mechanical components off the asphalt in a different manner. Colin Chapman went for a backbone structure for his Lotus 30; Bruce McLaren has preferred a conventional multi-frame for his McLaren Elva; and Eric Broadley has opted for a steel-and-alloy monocoque unit for his Lola 70. Time will tell which is the best solution (or will it? - for already we seem to have reached the stage where all three have proved their structural rigidity, and their relative success or failure seems to be a question of horse-power, braking efficiency and traction, or the lack of it).
The Lola 70 is the most interesting car, and somewhat expectedly leans considerably on the background of experience which Broadley has accumulated through his activities with first the Lola GT, and more recently the Ford GT, which was developed from it. Being designed as a 'pure' sports car, as distinct from a sports prototype (which means that it was freed from minimum weight restriction) the Type 70 gave Broadley every incentive to explore further the use of light alloy panelling, as well as sheet metal - a policy which he had earlier adopted in the construction of the Lola GT, but which was shelved in favor of an all-steel hull in the Ford GT.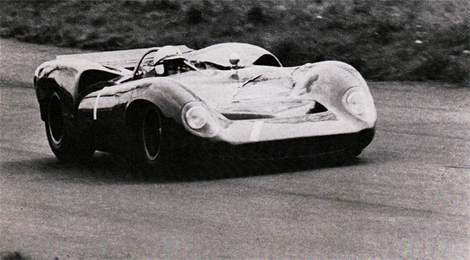 The Surtees-driven Lola squats under hard braking. Fender width allows room for ever-growing tire-width. High spoiler has been added to rear.
The base structure of the nw Lola, therefore, is a steel-and-alloy unit, comprising two side pontoons, which also act as fuel carriers with a capacity of 25 Imperial gallons apiece, joined by a steel floor platform amidships, by a steel box structure at the front, which provides the necessary mounts for front suspension, steering rack, etc., and by two tapering box-section arms (also in steel) at the rear which, in conjunction with a steel bridge-type diaphragm, carrying the engine, transaxle and rear suspension. It is a comparatively complicated structure, into which a great deal of effort has been put to achieve weight-saving, and which has sufficient torsional stiffness to render the extra stiffness provided by a number of semi-stressed exterior body panels a luxury rather than a necessity.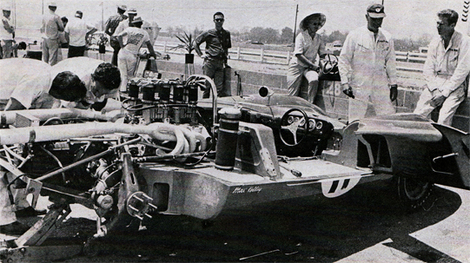 Walt Hansgen grins as a Texan named Hall seems to recognize something vaguely familiar about the chassis construction of the British racer.
Light-alloy transverse bulkheads contribute to the rigidity of the side pontoons, and are liberally perforated to allow for adequate through-flow of fuel, and at the same time to provide effective anti-surge baffling. The side pontoons also carry oil and water lines between front and rear, these being secured in postion by polystyrene foam, obviating the need for metal brackets which apart from their constructional complexity, also have the disadvantage of being heat conductors.
Of the main glass fiber body panels, those amidships, forming the cockpit area, and at the front, forming the complete nose other than a small inspection door between the two front wheels, are screw-fixed to the base hull, leaving only the one-piece rear-end section, which is rear-hinged, as a quickly removable item for maintenance and servicing. The small front panel, secured by four Dzus fasteners, exposes the obligatory spare wheel, as well as the fluid reservoirs (three - two for the twin braking circuits and one for the clutch hydraulics), the battery and the oil and water radiators.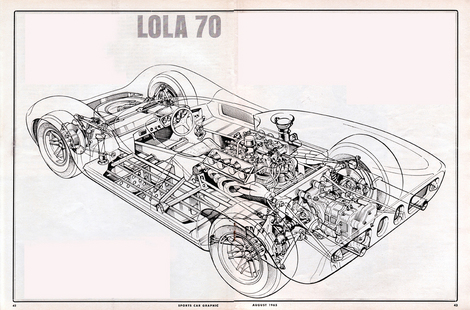 Cutaway of the impressive Mecom Lola which has been subjected to a lot of in-race development that has made it more reliable and road-able, but was reportedly pretty much a write-off after it became airborne during the recent Mosport race and collided with a pole, injuring driver Walt Hansgen. Based on a semi-monocoque chassis structure, the car has fiberglass nose, tail, and dor pieces that are unstressed. A large oil cooler has been mounted in the radiator exhaust ducting.
The double-wishbone front suspension system, which has also been used on Broadley's other large cars, has been modified in detail on the Lola 70. There is still a narrow-angle top wishbone in tubular steel, but instead of a tubular-steel lower link there is now a dished forging forming the transverse link, supplemented by a rear-facing arm whic gives the effect of a wide-based wishbone while itself acting as a radius arm. The dished portion of the lower link forms the bottom mounting of the Armstrong coil spring/shock absorber unit, the top mounting for which is immediately ahead of the front inboard mount of the top wishbone.
The anti-sway bar is high mounted, behind the front-wheel line, with forward-facing ends connected to vertical tie links. The steering rack is now also behind the wheel line, and is connected to the rear-facing extensions from cast-magnesium hub carriers. Another change is that the 12.5-inch diameter Girling brake discs have front-mounted calipers, and in order to aid cooling are located just inboard of the cast magnesium wheels, instead of being recessed deeply into them.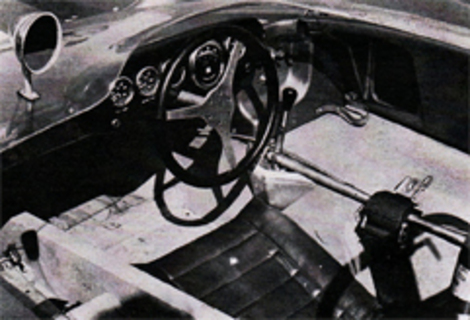 The cockpit area of the Mecom Lola at Mosport.
At the rear, the familiar Broadley suspension system, incorporating a reversed lower wishbone, single top link and parallel trailing arms, with coil-shocks supplying the spring medium, has been retained, but again has been altered in detail from his earlier efforts. For example, the lower wishbone now has three 'fingers', and the inboard top attachment points for the spring units are now on the same level as the inner mounts for the very short top transverse links.
The brake discs, again 12.5 inches in diameter, can almost be described as 'intermediate-mounted', being located inboard of substantial cast magnesium hub carriers-cum-suspension uprights, but outboard of very short sliding-spline drive shafts. In this case the calipers are placed behind the discs, which in their midway position get reasonable supply of cooling air.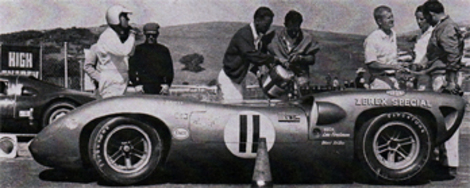 The Mecom Lola at Mosport.
The wheels, with their substantial looking eight-spoke design, have a six-pin fixing, and have eight-inch rims at the front and 10-inch at the rear. The John Surtees car, which runs on Dunlop R7 tires, carries 5.50 x 15's at the front, and 6.50 x 15's as the rear.
These days, there is as much variety between outwardly similar looking sports cars in terms of power unit and drive train as there is in the hidden methods of chassis construction. The Lola, for example, merely follows popular trend in being listed as available with the 4.7-liter Ford V8 power unit "or alternative units to special order."
Surtees started off with the Ford (and put up some pretty exciting lap times in it during sort-out tests) but later switched to a Traco-modified 5.9-liter Chevy, and David Hobbs, who drives a similar car in Britain entered by Harold Young, LTD., is treading a similar Ford-to-Chevy path, hoping to have the larger unit in time for British Grand Prix day at Silverstone - July 10. The matter of gearbox is also open to choice, although in this case it is merely a matter of deciding between the ZF five-speed unit and the Hewland LG500 four-speed box. Surtees is currently using Hewland.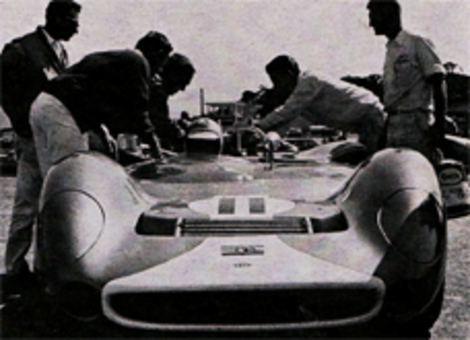 The Mecom Lola at Mosport.
The development period of this car, since the first example first rolled on its own wheels, has not exactly been painless, but then in Britain this year we are meeting problems which we have not had to face before. For example, we are still learning about wide - section tire performance, the subtleties of traction-where you score and where you start to upset things - the extent to which you have to provide more brake-cooling aids on the car with all-enveloping bodywork and with a power-to-weight ratio in excess of 600 horsepower per ton. Problems associated with engine cooling and even of carburetion have not yet been entirely licked, but already there has been a vast amount of progress from a couple of months ago, when the Anglo-American cars were rightly being labeled over here as 'fast but fragile'.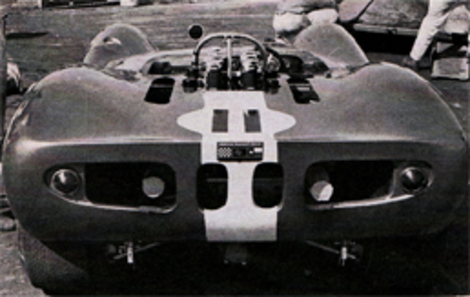 The Mecom Lola at Mosport.
John Surtees must take most of the credit for getting the Lola 70 to its present state of competitiveness, and although his victory at Mosport Park, on June 5, was aided by the retirement of the faster and more effective cars, it was a just reward for all the labor he has expended on the car in collaboration with Eric Broadley. Which weekend proved quite a Lola time, because the very dat after Surtees chalked up the first 'first', David Hobbs did it again, this time at Mallory Park, in a Guards Trophy race - a two part affair which brought sweet revenge for his TT disappointment, when he was the fastest race finisher, but was knocked out by the peculiar race regulations.
In Britain, the car is held in high regard, and with Surtees coming back to say that "we've learnt a very great deal over in Canada - it's been a most valuable experience", we are now expecting the Lola to fight back hard against the McLaren Elva which has been showing it the way home. On current form, it is the most stable - looking of the 'big three' through a corner, and now it looks as though it's beginning to get some lasting power. The next few weeks could be mighty interesting, with the big test, of course, coming on August 30 at Brands Hatch, when once again we'll have a big play-off between-we hope - the best sports cars and drivers from both sides of the Atlantic. On that day, John Surtees in his bright red Lola 70 could be a very different man to beat, Mr. Hall!
Other Lola 70 images past and present: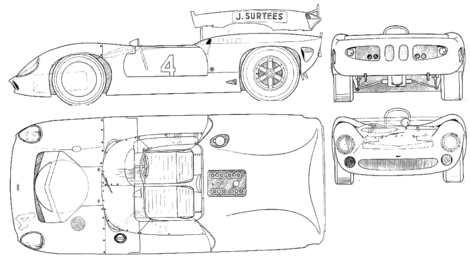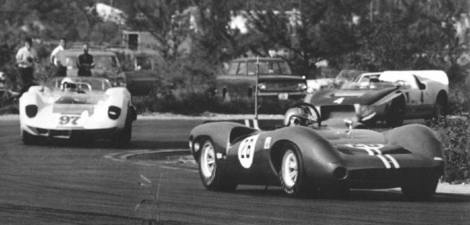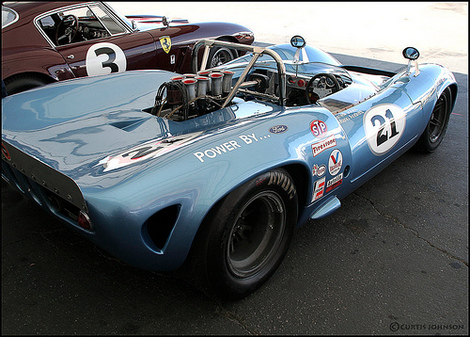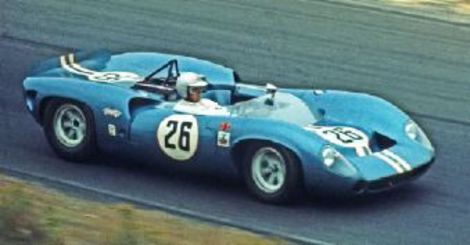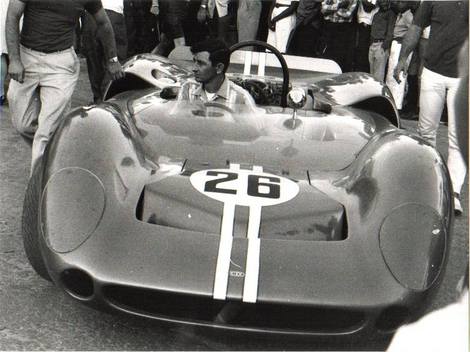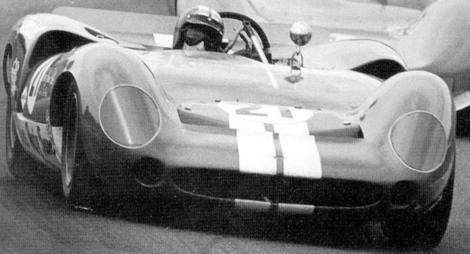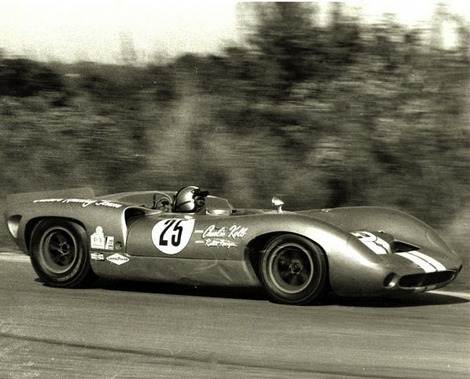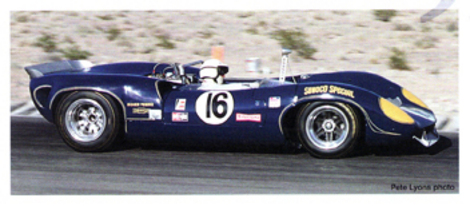 Posted 11/22/08 @ 04:40 PM | Tags: Lola 70, Lola T70, Sports Car Graphic magazine, Sports Car Graphic August 1965, Eric Broadley, John Surtees, Colin Chapman, Lotus, McLaren, David Hobbs, Harold Young, LTD, ZF five speeds, Hewland four speeds, Girling brakes, Jim Hall