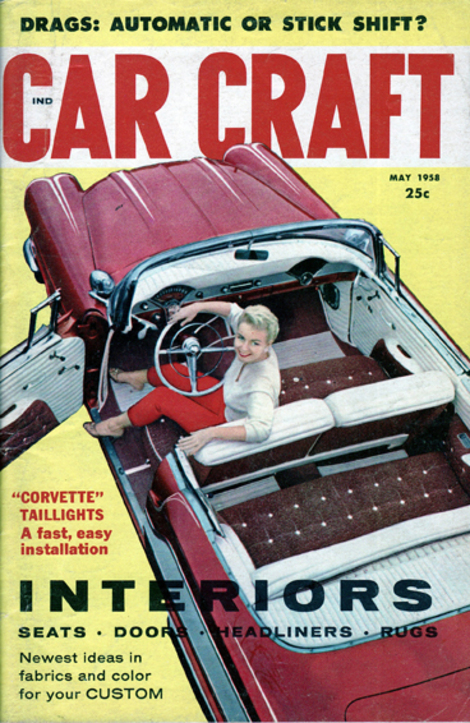 **Want a true custom? Replace that stock interior! Here's a salon of the latest combinations and designs to ease your selection.
BY DICK DAY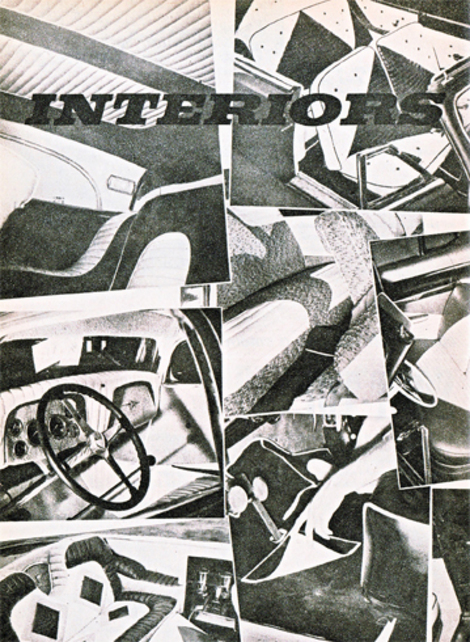 The finishing touch to any custom car is its interior upholstery. With each passing year new ideas and design concepts of interior fabrication soar to new heights in clever fabric combinations of luxurious appearance. Car Craft magazine has made it a point to inform its readers about these new developments from year to year so this then is our annual pictorial report on custom interiors - techniques and creativeness in the upholstery field.

The diamond pattern still retains its popularity with interior designers. Versatility seems to be the keynote with this particular harlequin type theme enabling many interesting color combinations to be worked into interior's seats and multiple side paneling. As you look over these illustrative examples it's easy to detect the clever color usage which is the heart of any striking interior. Particular attention should also be paid to the fact that this diamond pattern lends itself to doorpanels, rug pads, custom built "boots" for convertibles, etc. The "button" motif found on the opposite page is a method employed to break up stark panels of the diamond design patterns ewhen pleats or large rolls aren't used.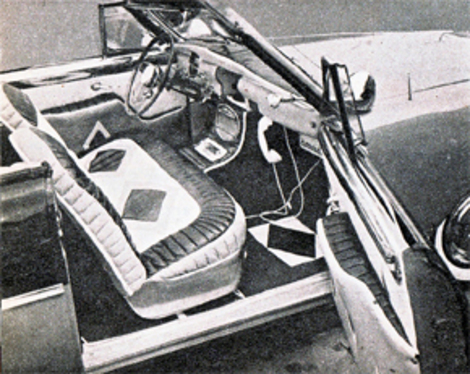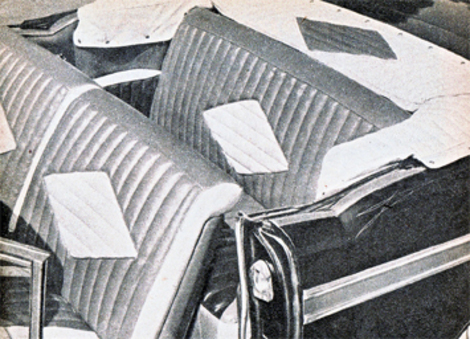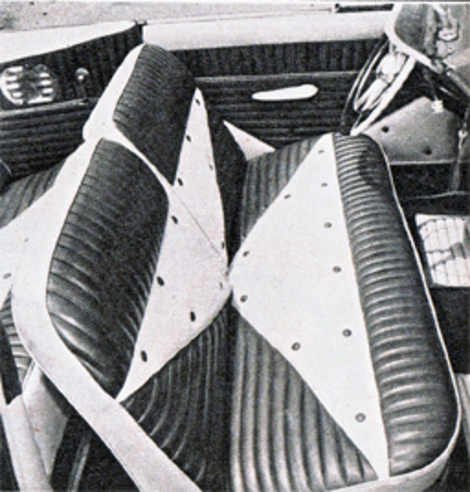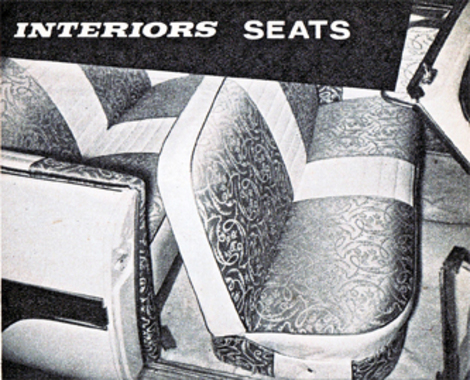 Upholstery thoughts run in all directions as can be seen here where one enthusiast catered to a more elaborate theme (above) while the lower interior displays stark contrast. Above interior's color combo is gold and white pleats while the lower interior carries brilliant red, black, and white color scheme.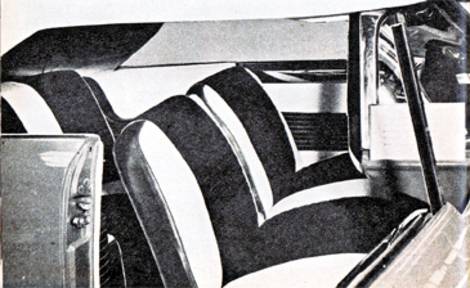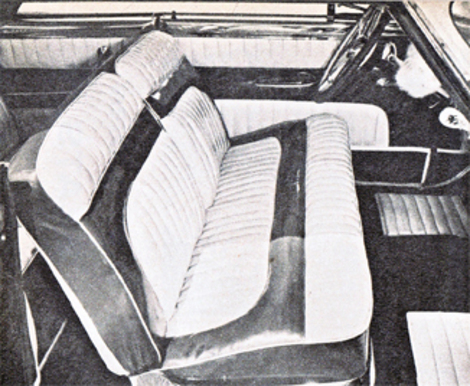 Harmonizing rolls and pleats create a very unusual design above; broken rolled and pleated patterns such as this is upholsterer's method of breaking away from traditional designs of past. Below, a beautiful combo of fabric and Naugahyde plastic gives "full dress" appearance treated in orange/white.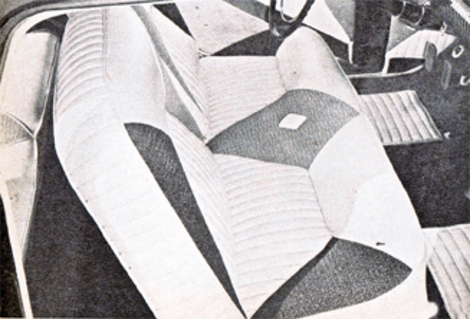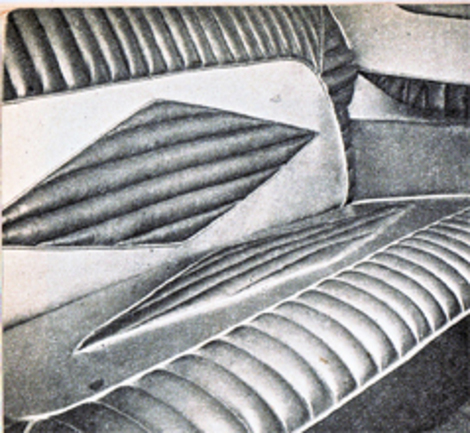 Again we fall back to the diamond patterns but with seat designs that are effectively finished. The upper design makes use of diamonds running horizontally while the lower shot displays vertical application. Both are flavored with abundance of standard rolls and pleats carrying balanced two color theme.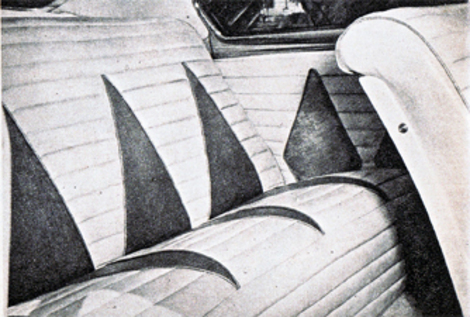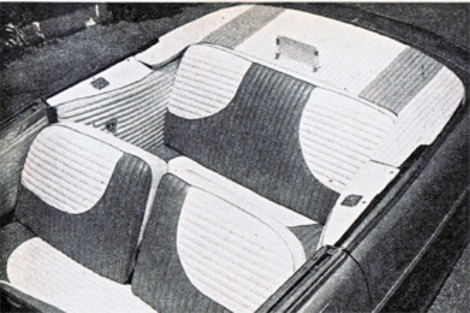 Two unusal design patterns are found above and below whereby seats have been divided cleverly with color combinations and rolls and pleats. Notice on the convert that pleats run both vertical and horizontally. Combine this with strong contrasting colors and a very nice overall effect is achieved.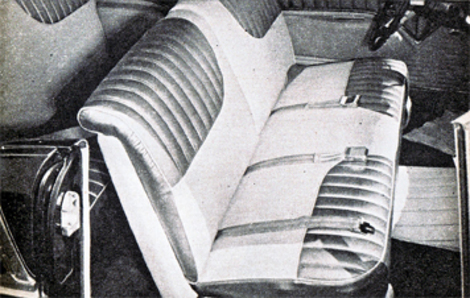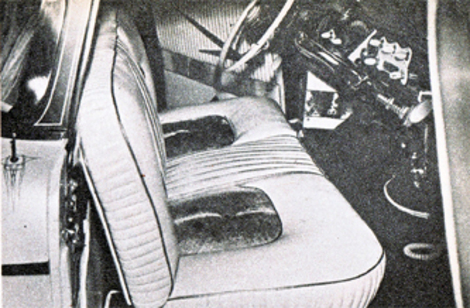 Heavy upholstery fabrics such as those used for furniture work are often employed in com junction with popular plastic materials. As above we go a step farther in the direction of application with inserts made from un-born calf skins. Note pleated seat edging. Below, a simple yet effective "button" theme.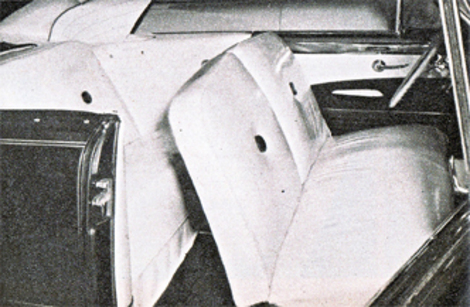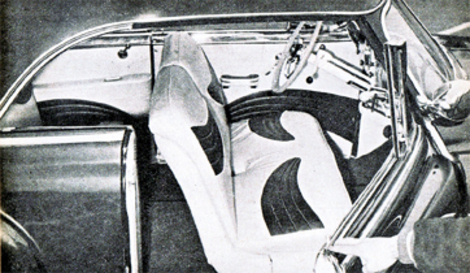 Many enthusiasts make an all out effort in creating a new pattern or design for their particular car. Usually it takes form in the sense of dissecting the seats, door panels and headliner into weird patterns of colors and shapes. Here we have two good examples. Above we can see how one enthusiast worked a flamed motif into seats also using a small portion of pleats and tufted button application. Below, a "shark fin" theme is incorporated into seats and door paneling.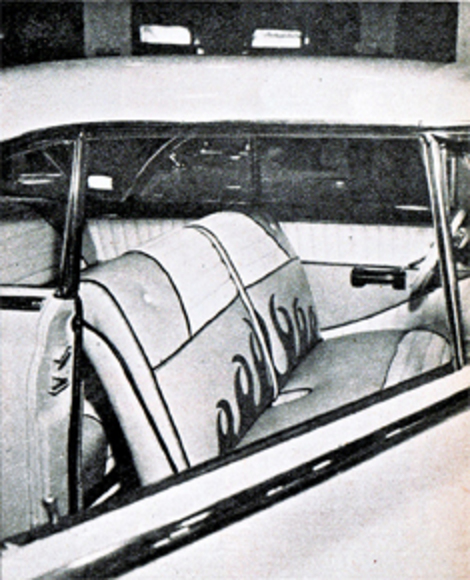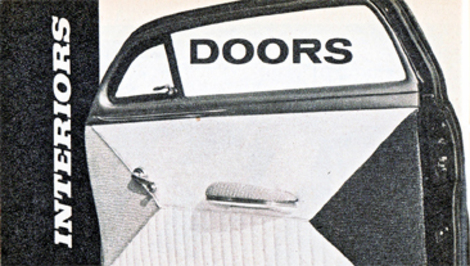 Door panels either carry a closely related design as compared to the seats or they can be augmented by additional ingredients such as chrome trim seperating sections of the design, additional rolled or pleated patterns, etc. The examples pictured here will lend you some excellent ideas on good door panel styling. Combinations of fabrics is apparent, sections of side trim have been used for dividing two color applications and the button theme is more impressive than ever as seen to the right.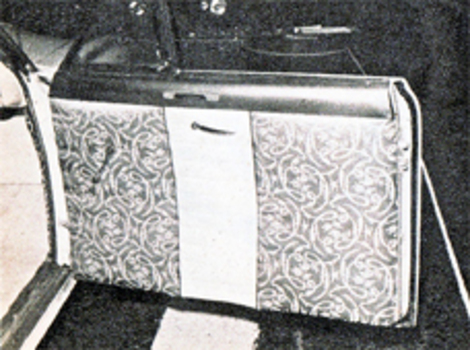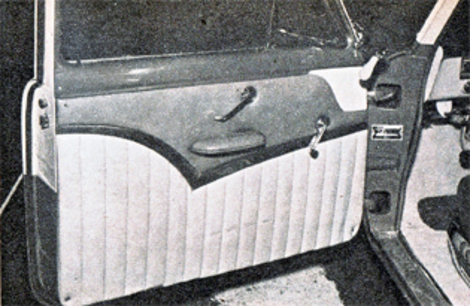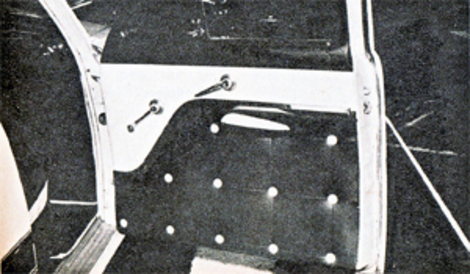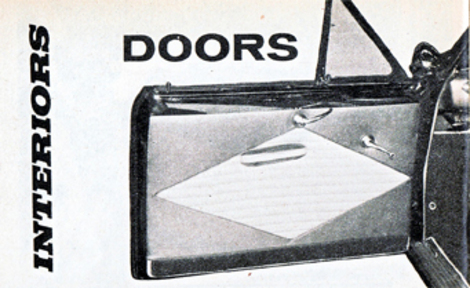 Flat door paneling offers no restrictions where upholstery is concerned. More and more emphasis is being placed on their designs, highlighting the interior's over-all appearance. The panels excel in deep contrast, blended rolls and pleats of varying widths and length, very plush scuff pads, and even the latest efforts of monogramed trademarks come off very nicely.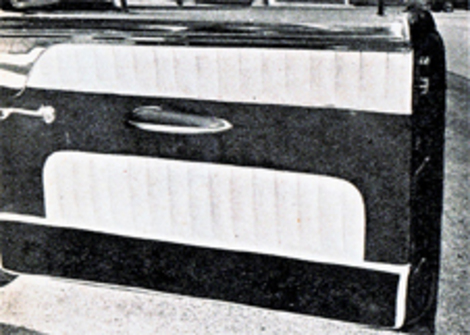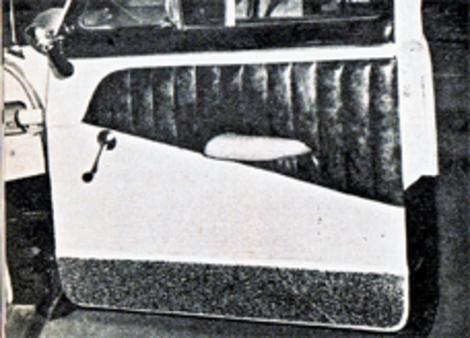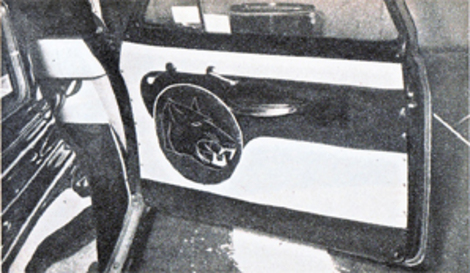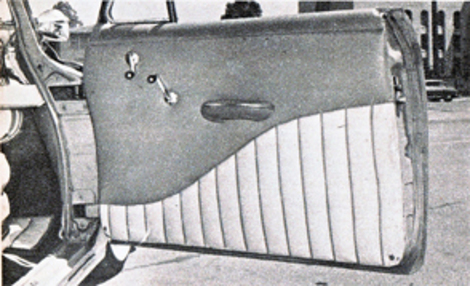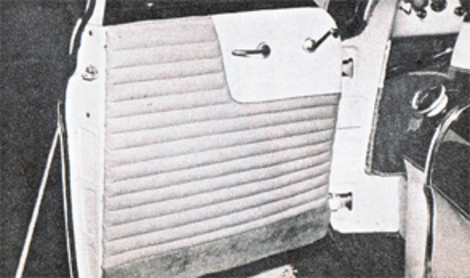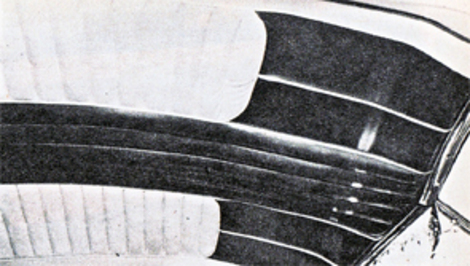 HEADLINERS
The radically treated rolled and pleated headliners are not mandatory with an all-out interior, but when some enthusiasts go, "they go all the way"! The headliner, much like the door panels, offers unlimited opportunities for cagey and weird upholstered patterns. Pleats and rolls are combined as well as sectional patterns. Even special made chrome trim can be used for top side appilications. Contrast of colors plays major role with headliner's appeal.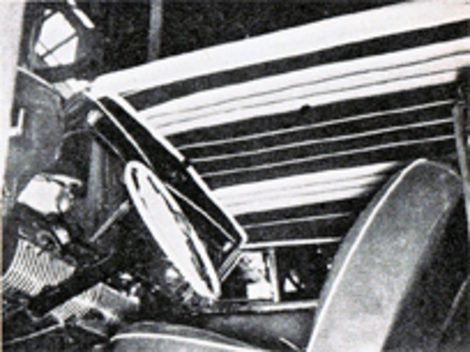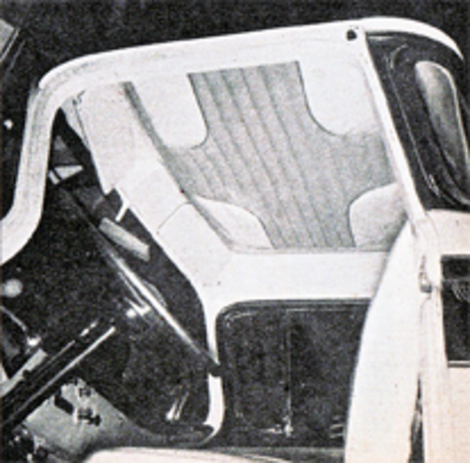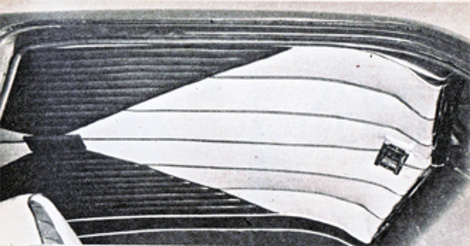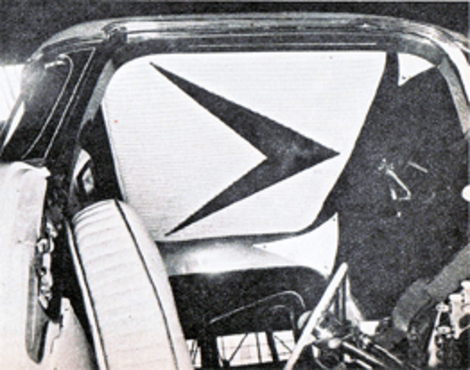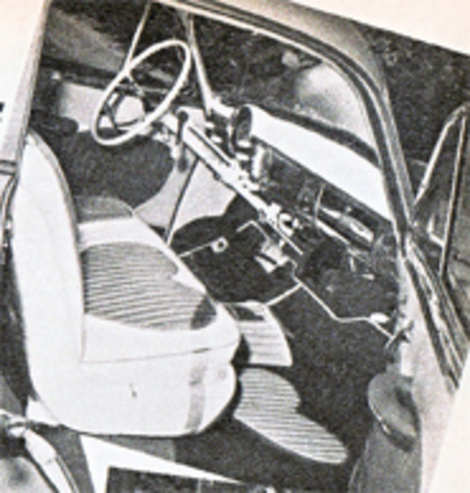 RUGS
Rugs are basic items with interior work so they are generally treated in a standard manner. Contrasting piping around the edges and foot pads are basic decorations. Some pleat and roll the driveshaft tunnel and upper area of the inside firewall. Rug material runs from heavy carpeting to long or short cotton shag.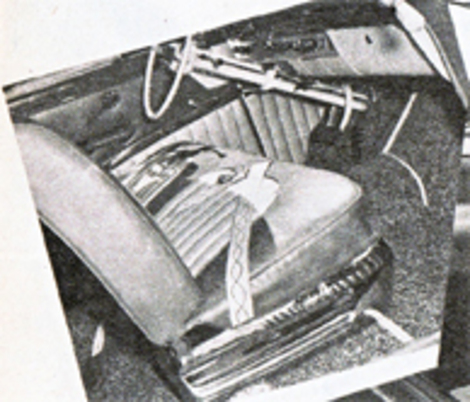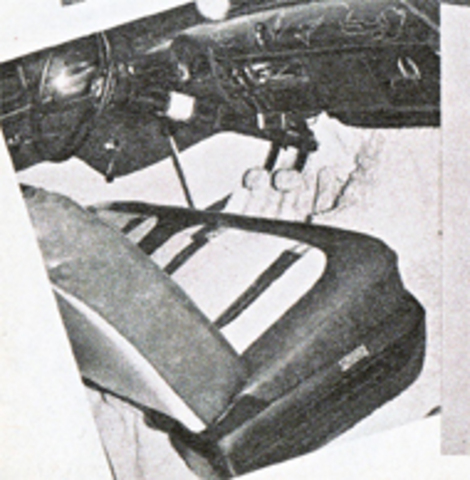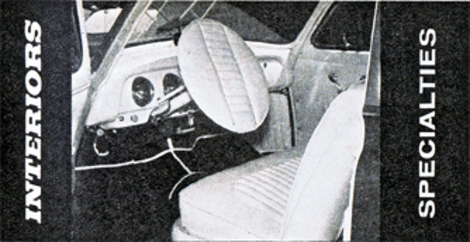 Special upholstery pieces are now making their appearance with many show cars. Above we can see two different treatments for steering wheel covers and below an unusual engine compartment cover made from rug material with pleated Naugahyde center section. We have seen similar upholstery pieces made up for trunk compartments. And just recently a business coupe with the area back of the front seats neatly blocked and covered like the engine.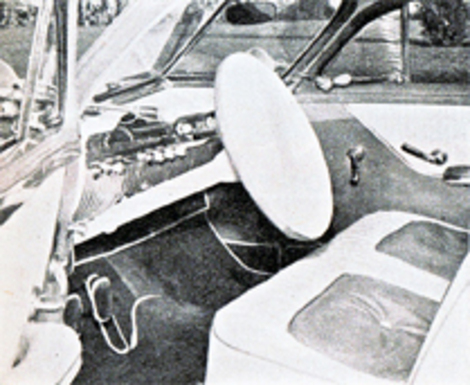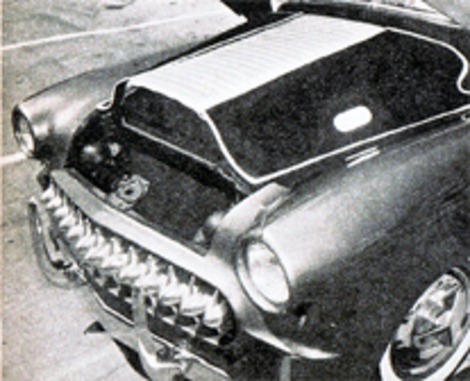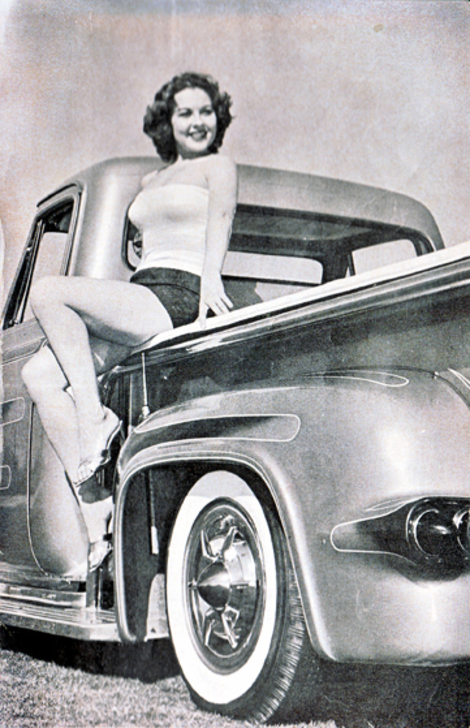 And let's not forget the Car Craft coming attractions at the end of every issue.
Posted 04/21/12 @ 08:13 PM | Tags: old school hot rod interiors, custom car interiors, Hot rod interiors, 50's custom hot rod interiors