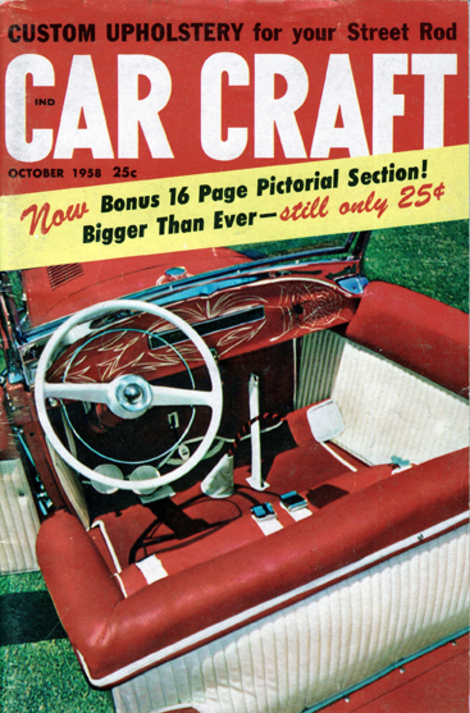 CUSTOM UPHOLSTERY for your street rod.
WHEN BUILDING UP a street-rod of early roadster or coupe vintage upholstery plays a major role with it's over-all finished appearance. You might refer to it as the decorative frosting. Set in a surrounding of beautiful restore and special metal work, the interior of these models offer the builder yet another department to display originality of thought and design. What could serve as a better showcase for personal expression than the small bucket-like interior compartments found in these classic models? The basic contours of small squared-off door panels, uniform seats and flooring all lend themselves to unlimited designs using colorful combination of varied fabrics. Here then is a salon of the latest interior stylings of today's street-rod.
roadsters
Typical of the radical plush-bucket styling in today's roadster models can be seen in these two lead photographs. At the left (photo 1) we have a very elaborate treatment of gold plastic and a fabric (to bad the photos are b&w) combination button tufted in a diamond motif displaying specially constructed center arm rest. Contrast to this is the uniform candy striped pattern found below done below (photo 2) done in vertical pleats of rich red and white Naugahyde. Seat belts also follow color scheme.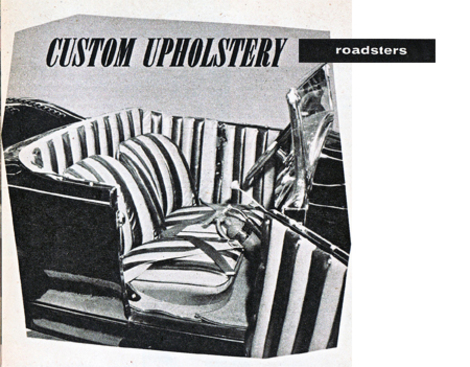 photo 1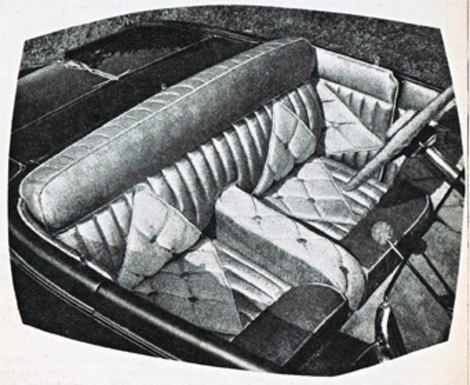 photo 2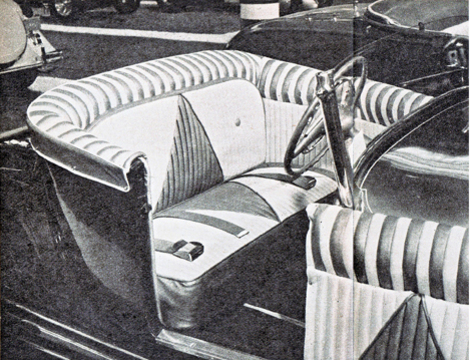 Heavy stripped roll conturing perimeter of cockpit presents striking contrast to the simple diamond pattern of seats in the roadster above. Notice the door panels carry the same theme.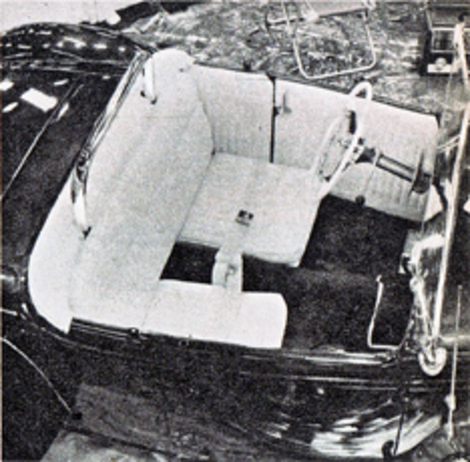 Roadster features unusual seating arrangement in that seat bottoms are divided by the driveshaft tunnel, yet back rest remains one piece. Chrome roll bar blends beautifully with the all-white interior. Note small "boot" filling the space behind the seat.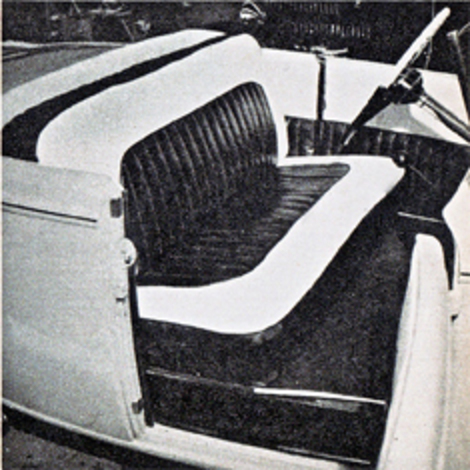 Plays of dark and light upholstery highlight the cockpit of roadster with a large horseshoe pattern worked into the design of seat is a real switch from treatment of similar type.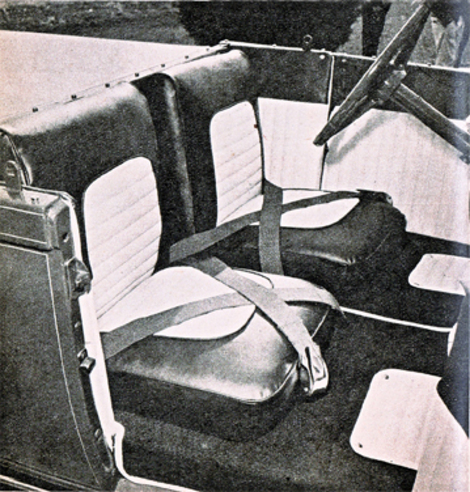 Individual seating arrangement is rapidly becoming standard practice with roadster enthusiasts, especially so with deeply channeled bodies. Area between seats is many times turned into a functional use as an arm rest, instrument panel, or for radio.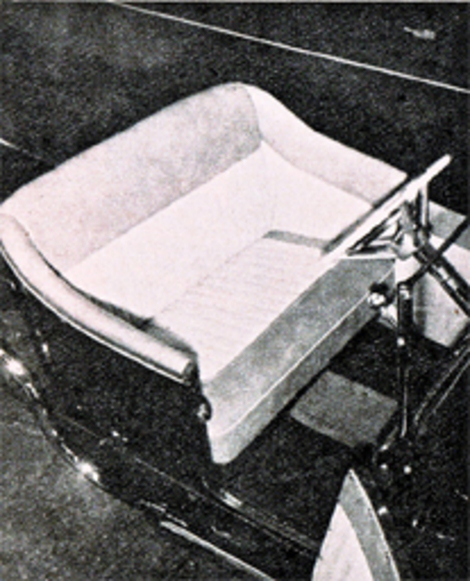 The traditional large roll and pleat designs still retain their popularity with small bucket cockpits found in early "T" Fords. Upholstery styling of this type seems to harmonize with simple lines of body playing down gaiety found in these show cars.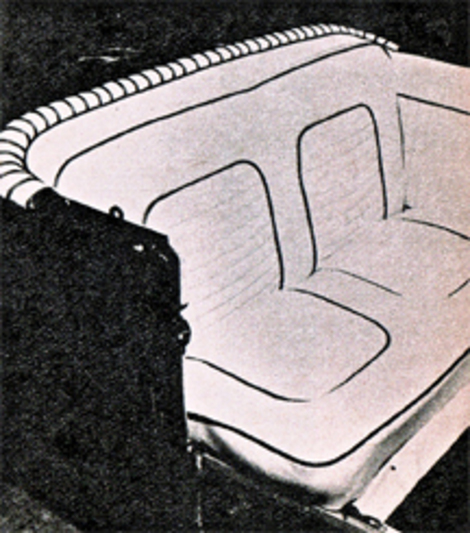 Striking contrast is lent this all-white interior of rolls and pleats by bordering seat edges and contours with dark piping. Interesting roll at the rear is combo of piping and Naugahyde in seats.
coupes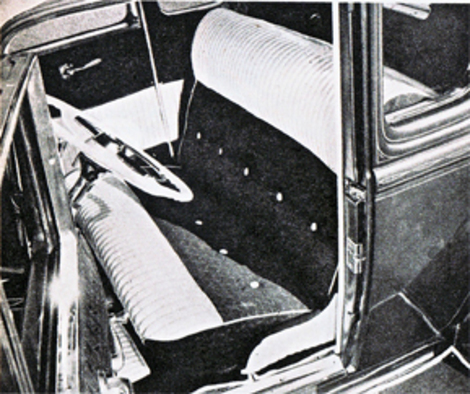 Coupe interiors in many cases follow similar upholstery trends found in late model custom cars. This coupe incorporates a large head roll, is button-tuffed, makes use of both fabric and Naugahyde for covering. Design is not too far removed from late model cars but for a '32 Ford - the wildest!
Similar to the roadster pictured on the previous page, dark piping is again employed to accentuate and decorate all-white theme.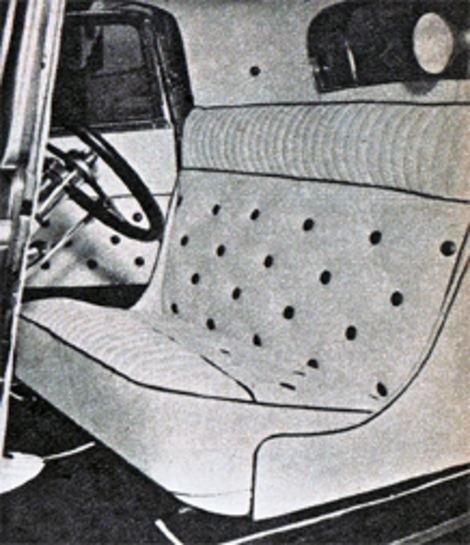 Buttons, pleats, and contrasting piping all create special effects for this beautiful coupe's interior. Color scheme is red/white.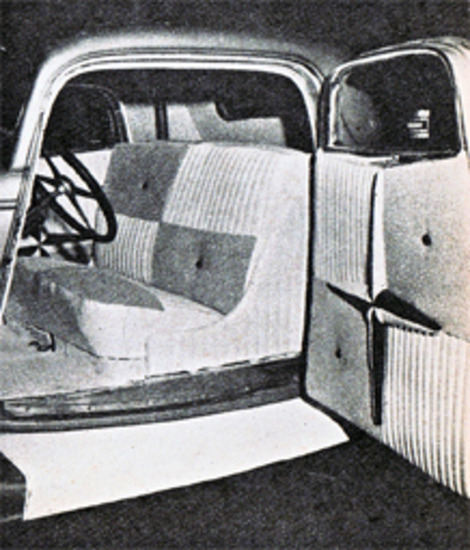 An interior possessing unusual originality is this '34 coupe's styling whereby cloth fabrics were combined with Nagahyde in a checkered/pleated pattern. Even the seat's side frame received full compliments of pleats. Note unusual star design built into the door panels. One button tufting creates attractiveness in fabric portions of seats.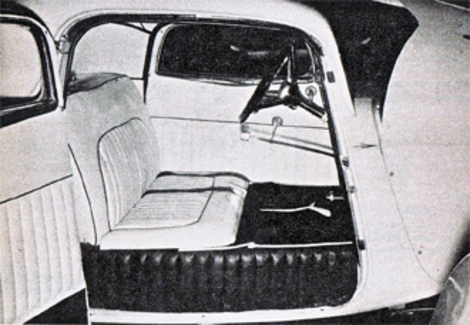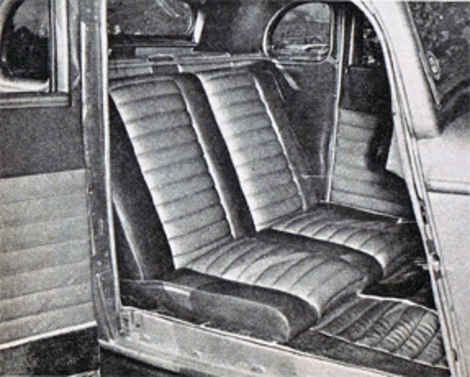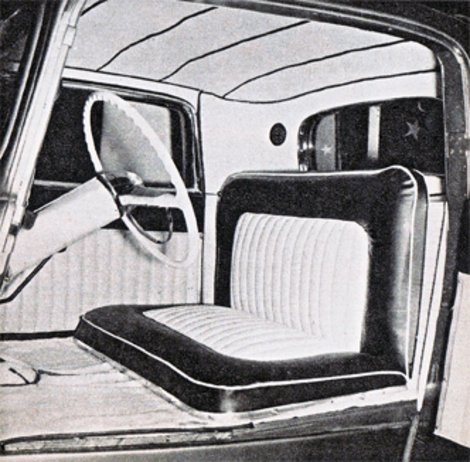 "The farther down you go - the less height" seems to be theme of the channeled coupes. Interiors take on complete re-construction and emerge in all sizes, shapes, and angles. No doubt something is left to be desired for comfort, but with so many new cushion-filling materials on the market such as rubberized horse hair, resilient styro-foam, etc., much comfort can be retained. Upholstery themes vary from rolls and pleats of vertical design to that of horizontal patterns. Unique upholstery treatment when channeling is to neatly apply row of pleats along exposed edge of the frame rail as can be seen with the '34 Ford at the top of the page. Another though is to carry carpeting material from the interior flooring down over the face of the frame for neat appearance.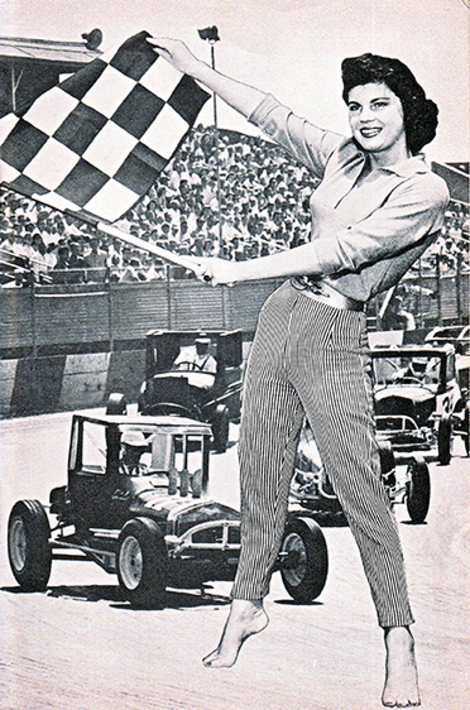 And of course what Hot Rod magazine would leave out the "hot cutie"?
For contrast here are some random photos of contemporary designs of roadster and coupe interiors courtesy our wonderful world-wide web.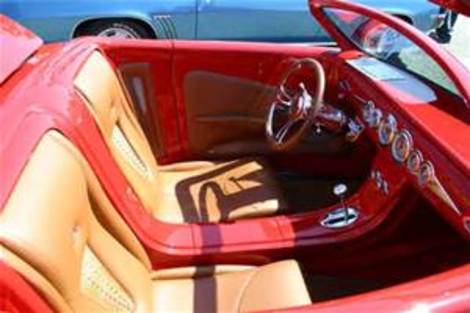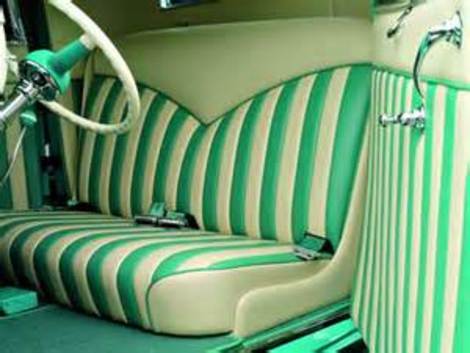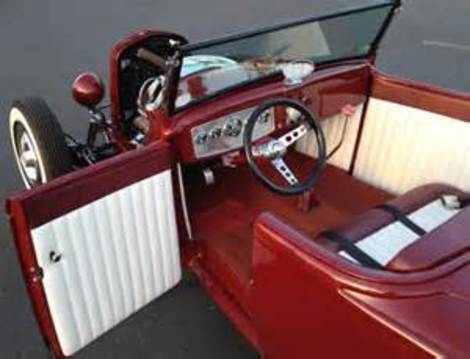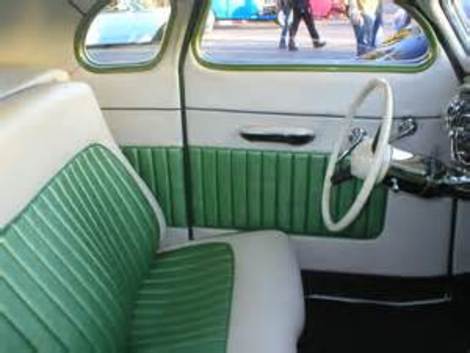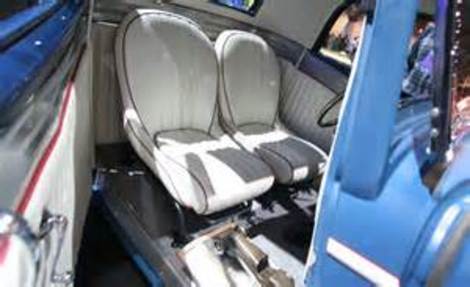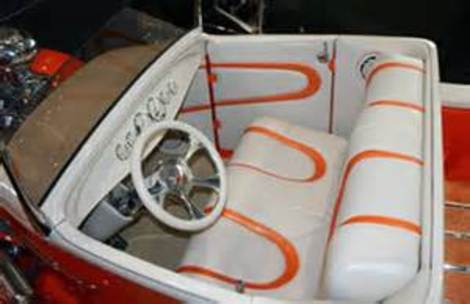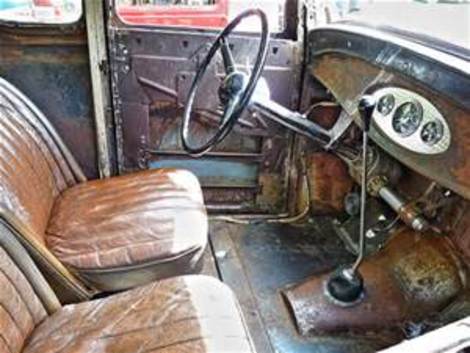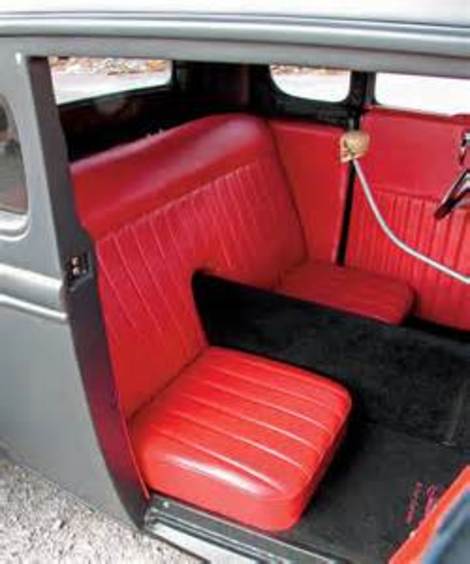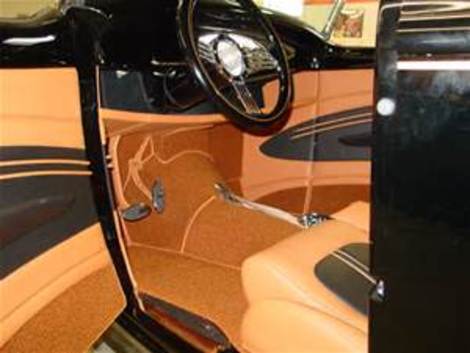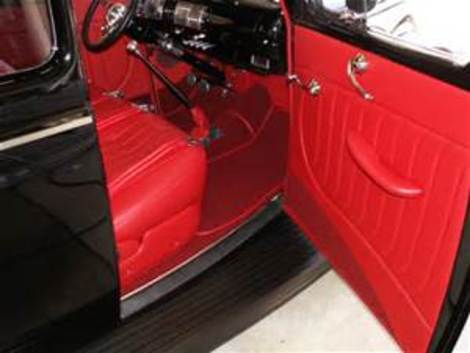 Posted 06/22/14 @ 08:34 PM | Tags: Custom Upholstery, Hot Rod interiors from 50, Hot Rod upholstery, Old School car interiors, old school hot rod interiors