On Wednesday night July 16th 2008 with much anticipation I packed my cobra trunk for a weekend of camping, vintage racing, and some track time through the touring offered in Elkhart Lake, Wi about 2.5 hrs drive from Chicago at Road America. Touring while not racing still allows one to experience the track and stretch your cars legs if you so desire.
Road America is one of Americas premiere racetracks and one of the longest at approximately 4 miles with a variety of challenging corners, and elevations. What a beautiful place to be and with RACE CARS everywhere.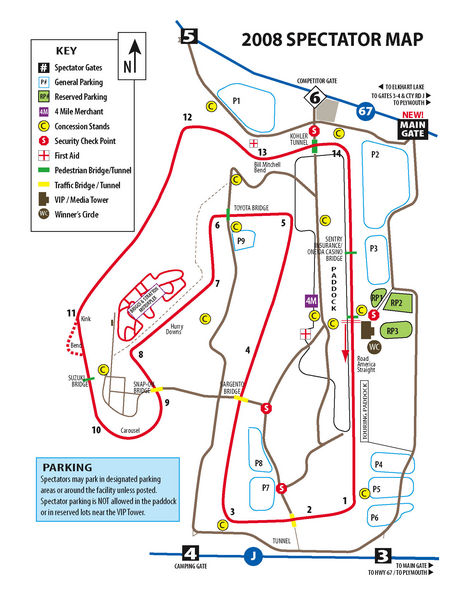 That's one of the other great things about RA is the atmosphere is relaxed you can wander the pits look at the cars close up talk to the crews, drivers and owners or walk the course and perch in the stands at any of the corners or straightaways.
All week we monitored the weather NOT good. Rain Rain Rain only thunderstorms in the forecast. Thursday morning it was cloudy but no rain.
With trepidation and having packed my top just in case off I went to get my friend Peter who has a cobra as well. The drive up was great no rain the car ran great nice and cool. As we approached RA the clouds were dark and thought here we go with the storms. But the sun appeared and the darkness seemed far away. As we drove into the next small valley it got dark the pavement was wet and it was in fact raining. On the other side up we climbed boom sun dry pavement it was great.
We camped in the carousel campground which is a wide almost half circle sweeping series of turns 9 & 10. Setting up a chair on top of our picnic table afforded a wonderful view of the cars as they came charging down a small shoot and down to a hard almost hairpin turn #8 and accelerate into the carousel.
In my cobra I was able to take it in 3rd gear accelerating to about 60-65 mph before hitting fourth into the next straightaway at about 70-75 mph to about 100 mph before the next turn. The g-forces in the carousel feel great as your speed increases you feel your tires on the road as you lean out.
Back to the racing.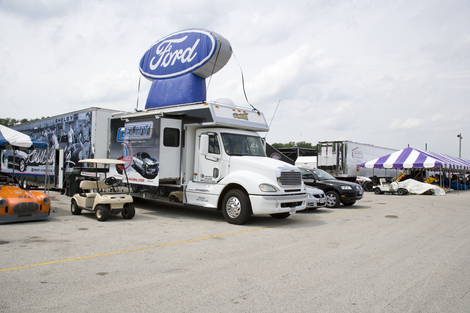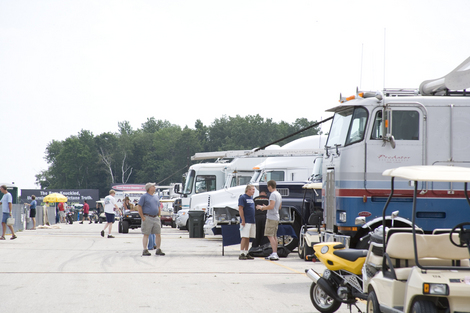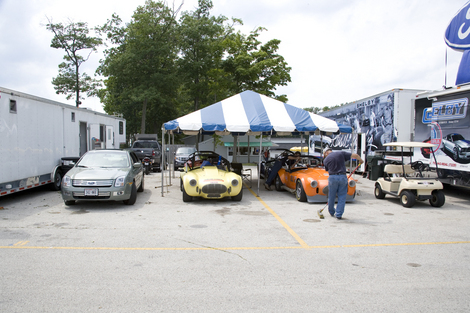 Shelby had a few continuation cobras there to race.
The Kohler International Challenge was a four day event with tech and practices thursday; more practice on friday; qualifing on saturday, and racing all day sunday. The classes are extensive and as follows:
Group 1:
Formula Atlantic, FB, F2, Sports Racers, S200 There were 31 cars in this class - what a collection of different Lolas, Chevrons, Marches incredible cars very loud and FAST.
Group 2
Monoposto Classic Formula Cars (through 1972) There were 30 cars in this class open wheel Lolas, Brabhams, Chevrons, Lotus and other makers. The formula cars are always very fast no matter how old the are.
Group 3
Vintage Small/Medium Displacement Production Cars, Sedans, Select Sport Racers (through 1972) There were 40 cars in this class broken down into various subclasses. A variety of Porches, Triumphs, MG's, Austin Healeys, Alfa Romeros, Minis the list goes on but mostly 365 Porsches.
Group 4/5
Vintage Sports Racing Cars (through 1960); Vintage A & B Production (through 1962); Early Historic Sports Racing Cars (through 1972) There were 34 cars in this class one of my favorite classes including Scarabs, Lolas, Corvettes, Devins, Elvas, Listers all incredible shapes and interesting forms loud and fast.
Group 6
Big Bore Production Cars & Sedans (through 1974) There were 33 cars in this class Corvettes, Camaros, Mustangs, Cobras, Porsches, the motors pushing the big #'s Many of the cars were from the Trans-Am era.
Group 7
Historic Can-Am (through 1974) There were 30 of the most pound per horse power beasts on the pavement my all time favorite cars extremely extremely FAST. McLarens and Lolas of different models dominate this class. Their distinctive velocity pipes jutting out at angles behind the drives cockpit. They truly are insane machines - the sound - the horsepower and speed.
Group 8
Historic/Post Historic Medium Displacement Production Cars & Sedans (through 1989) There were 52 cars in this class crowded field Porsches, BMWs, MGBs, Lotus, Datsun Stock production cars limited modifications allowed.
Group 9
Post Historic Formula One/Indy Car Challenge, Formula 5000, Historic Grand Prix. There were 25 cars racing in that class. Names such as McLaren, Tyrell, Lola, Shadow, Penske, March, Benetton. All beautiful open wheel classics.
Group 10
Post Historic GT Cars (1972-1997) 46 entries in this class Audis, Porsches, Corvettes, continuation Cobras, Vipers and other more modern cars. Big field fast cars alot of fun to watch especially in packs.
Group 11
Race Formula 5000 40th Anniversary There were 22 cars entered Lolas, Mckees, Shadow, McRae, and a Gurney Eagle.
With all these classes and each averaging 20 - 30 cars it was fantastic walking the pits taking pictures talking to many of the people about their cars. Everyone is so friendly and willingly to answer questions let you have access to their cars. Car guy heaven. Thursday the weather threatened but never materialized. That night it did storm some but my tent and car cover survived. Friday morning I spent sitting on top of the picnic table in a camping chair taking in the morning air and watching the practice secessions.
The Scarabs were there in force on of my favorite race cars of that era. It was the 50th anniversary of the brand which started in the 50's. Lance Reventlow , an heir to the Woolworth fortune raced in europe and realized that America could produce a competitive race car to rival the europeans. Founding Reventlow Automobiles, zInc. in Culver City, Ca he hired the best talent around. Troutman & Barnes to build the chassis, Phil Remington to design and engineer the car, Traco to build the engines, Ken MIles to help design the chassis, Warren Olsen as general maager, and Chuck Daigh as engineer and driver. They built a front engine sports racer powered by a modified Chevy V8 and clothed in a beautiful body penned by Chuck Pelly.
Here are a few of these stunning cars: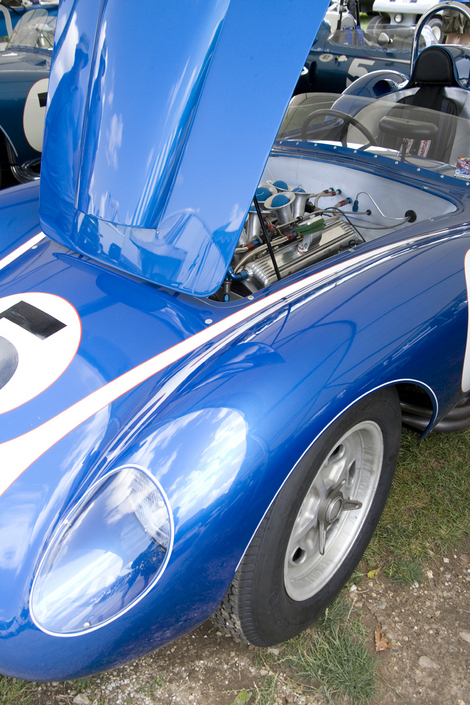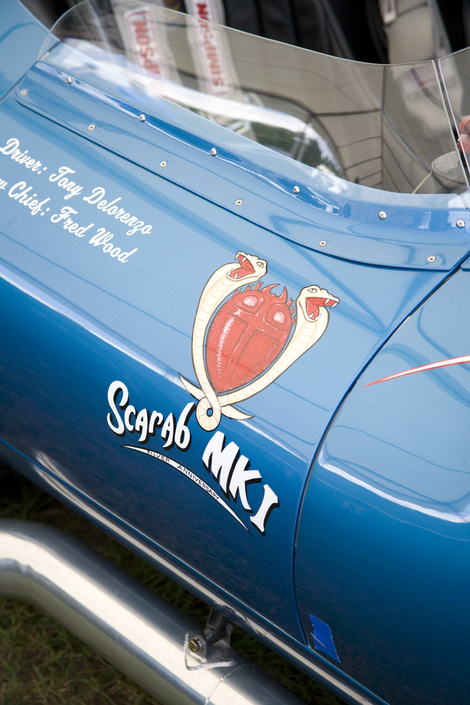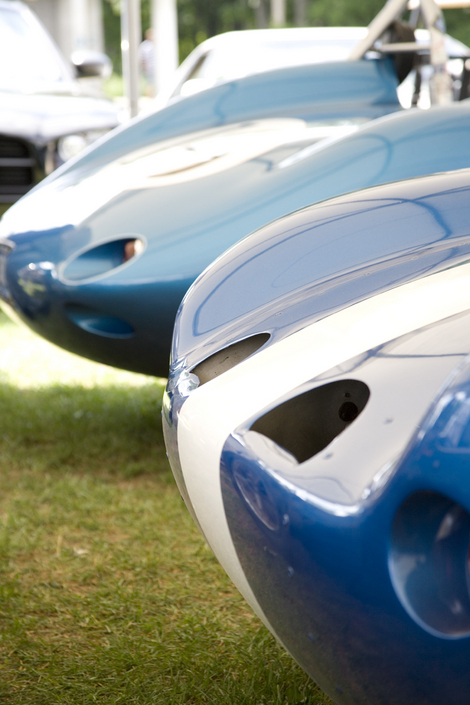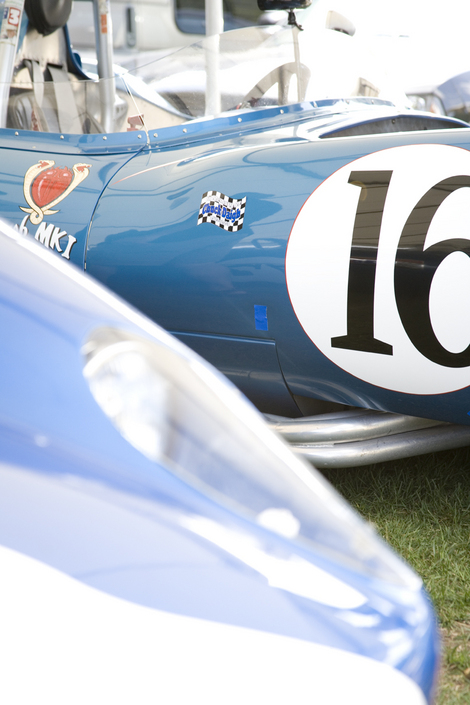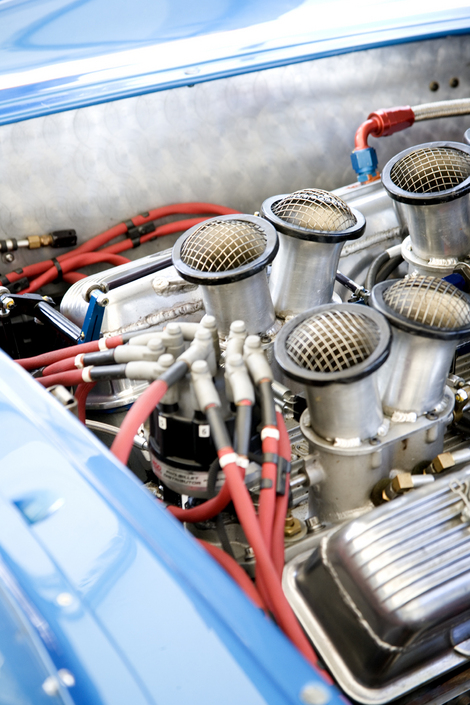 Can-Am is my absolute favorite class. The cars are unsurpassed in handling and horsepower. Can-Am started out as a race series for Group 7 sports racers with two races in Canada (Can) and four races in the United States of America (Am). The series was initially sponsored by Johnson Wax. The Series used the FIA Group 7 category with unrestricted engine capacity. The Group 7 category was essentially a formule libre for sports cars; the regulations were minimal and permitted unlimited engine sizes (and allowed turbocharging and supercharging), virtually unrestricted aerodynamics, and were as close as any major international racing series ever got to anything goes. As long as the car had two seats and bodywork enclosing the wheels, and met basic safety standards, it was legal. Group 7 had arisen as a category for non-homologated sports car 'specials' in Europe and for a while in the 1960s Group 7 racing was popular in the United Kingdom as well as a class in hillclimb racing in Europe. Group 7 cars were designed more for short-distance sprints than for endurance racing. Some Group 7 cars were also built in Japan by Nissan and Toyota, but these did not compete outside their homeland (though some of the Can-Am competitors went over to race against them occasionally). SCCA sports car racing was becoming more popular with European constructors and drivers, and the United States Road Racing Championship for large-capacity sports racers eventually gave rise to the Group 7 Can-Am series. There was good prize and appearance money and plenty of trade backing; the series was lucrative for its competitors but resulted, by its end, in truly outrageous cars with well over 1000 horsepower (750 kW) (some teams claimed 1500 hp in qualifying trim), wings, active downforce generation, very light weight and unheard of speeds. Similar Group 7 cars ran in the European Interserie series, but this was much lower-key than the Can-Am. On-track, the series was initially dominated by Lola, followed by a period in which it became known as the 'Bruce and Denny Show', the works McLaren team dominating until the Porsche 917 was perfected and became almost unbeatable. After Porsche's withdrawal, Shadow dominated the last season before Can-Am faded away to be replaced by Formula 5000. Racing was rarely close - one marque was usually dominant - but the noise and spectacle of the cars made the series highly popular. The energy crisis and the increased cost of competing in Can-Am meant that the series folded after the relatively lacklustre 1974 season; the single seater Formula 5000 series became the leading road-racing series in North America and many of the Can-Am drivers and teams continued to race in this. F5000's reign lasted for only two years, with a second generation of Can-Am following. This was a fundamentally different series based initially on converted Formula 5000 cars with closed-wheel bodies. There was also a 2L class based on Formula 2 chassis. The second incarnation of Can-Am faded away as IMSA and CART racing became more popular in the early 1980s but remained active until 1987. Can-Am remains a well-remembered form of racing due to its popularity at the time, the spectacular cars and the lineup of talented drivers. Can-Am cars remain popular in historic racing.
McLaren cars were specially designed race cars. The Can-Am cars were developments of the sports cars which were introduced in 1964 for the North American sports car races. The development variants M1A and M1B were raced as factory cars in the 1966 with Bruce McLaren and Chris Amon as drivers. In 1967, specifically for the Can-Am series, the McLaren team introduced a new model, the M6. The McLaren M6 also introduced what was to become the trademark orange color for the team. The McLaren team was considered very "multi national" for the times and consisted of team owner and leader Bruce McLaren, fellow New Zealander Chris Amon and another "Kiwi" and the 1967 Formula One World Champion,Denny Hulme, Team Manager Teddy Mayer, Mechanics Tyler Alexander, Gary Knutson, Lee Muir, George Bolthoff, Gary Knutson, Frank Zimmerman, Tom Anderson and Haig Altoonian & (USA), Don Beresford & Alec Greaves(UK),Cary Taylor, Jimmy Stone, Chris Charles, Colin Beanland, Alan McCall and Alistair Caldwell(NZ). The M6 series were a full aluminum monocoque design with no uncommon features but, for the times, there was an uncommon attention to detail in preparation by the team members. The M6 series of cars were powered by smallblock Chevy engines built by Al Bartz Engines in Van Nuys, CA., They were the model of reliability. This was followed in 1968 by the M8A, a new design based around the Chevy Mark IV "big block" engine as a stressed member of the chassis. McLaren went "in house" with their engine shop in 1969. The M8B, M8C, M8D and M20C were developments of that aluminum monocoque chassis. McLaren so dominated the 1967-1971 seasons that Can-Am was often called the "Bruce and Denny Show" after the drivers who very often finished 1-2. In fact there waseven a 1-2-3 finish at the michigan International Speedway on September 28, 1969. McLaren 1st, Hulme 2nd, Gurney 3rd. Sadly, 9 months later, Bruce McLaren lost his life on June 2, 1970 at Goodwood when the rear bodywork of his prototype M8D detached during testing resulting in a totally uncontrollable car and a fatal highspeed crash. McLaren continued to succeed in Can-Am after Bruce's death with a number of other drivers, but the works Porsche effort with turbocharged flat-12 engines and a high development budget meant that they could not keep up with the 917. Although private McLarens continued in the series, the works team withdrew to concentrate on Formula One (and USAC, for several years). Team McLaren went on to become a several time F1 champion and is still very much a part of F1. Jim Hall's Chaparrals were very innovative, following his success in the United States Road Racing Championship (USRRC). Jim Hall's 2 series Chaparrals (built and engineered with a high degree of covert support from Chevrolet's research and development division) were leaders in the application of aerodynamics to racecars culminating with the introduction of the 2E in 1966, the first of the high wing race cars. The 2E was a defining design, and the 2G was a development of that basic design. The FIA banned movable aerodynamic devices and Chaparral responded with the 2H 1969. The 2H broke new ground, seeking to reduce drag but didn't achieve much success. The 2J that followed was perhaps the ultimate example of what Group 7 rules could allow in a racing car. It was a twin-engined car, with the by-then usual big-block Chevrolet engine providing the driving force, and a tiny snowmobile engine powering a pair of fans at the back of the car. These fans, combined with the moveable Lexan 'skirts' around the bottom of the car created a vacuum underneath the car, effectively providing the same level of downforce as the huge wings of previous vehicles, without the drag. Although far too mechanically complex to survive in racing environments, the theory was sound, and would appear in Formula One a few years later, first in Colin Chapman's Lotus cars, and even more directly in the BT46B 'Fan Car' of 1978. The Lola T-70, T-160, T-163, and T-260 were built for various customers and were generally either Chevy or Ford powered. The Lola T-70 driven by John Surtees won the first Can Am championship. Later Lolas adopted more radical aerodynamics and Jackie Stewart achieved some success at the wheel of a T260 but the car was never fully developed. British-born mechanic and engineer Peter Bryant designed the Ti22 (occasionally known as the Autocoast after one of the team's major backers) as an American-built challenger to the British McLarens and Lolas. The car made extensive use of titanium in its chassis and suspension, and Bryant experimented with aerodynamics and with early use of carbon-fibre to reduce weight. Although the car was quick it did not achieve consistent success; problems with the team's funding saw Bryant move on to Don Nichols' UOP-sponsored Shadow team. The Shadow marque had made its debut with an astonishing car with tiny wheels and radiators mounted on top of the rear wing designed by Trevor Harris; this was unsuccessful, and more conventional cars designed by Bryant replaced them; Bryant was sidelined when Shadow moved into Formula One but after his departure turbocharged Shadow came to dominate as Porsche and McLaren faded from the scene. The Porsche 908 spyder was used in Can Am, but was underpowered (350 hp) and mainly used by underfunded teams. It did win the 1970 Road Atlanta race though when the more powerful cars fell out. The 917PA, a spyder version of the 917K Le Mans car, was raced, but its normally aspirated flat-12 was underpowered (530 hp). In 1971 the 917/10 was introduced. This was still not turbocharged, but was lighter and had cleaner body work, and Jo Siffert managed to finish fourth in the championship.
Porsche 917/30, in Stuttgart-Zuffenhausen Museum. For 1972 the 917/10K with a turbo charged 900 horsepower 5 liter flat-12 was introduced. Prepared by Roger Penske and driven by Mark Donohue and George Follmer these cars won six of the nine races. In 1972 Porsche introduced an even more powerful car, the 917/30KL. Nicknamed the Turbopanzer this car was truly a monster. With 1100 horsepower (820 kW) on tap from a 5.4 liter flat-12 and only weighing in at 1800 lb (816 kg) with better downforce this car won every race in the 1973 championship. The Porsche dominance was such that engine rules were changed to try to reduce the dominance of one marque by enforcing a fuel-consumption rule for 1974. This kind of alteration of rules to promote equality is not unknown in other forms of American motorsport. In 1975, after the demise of the category for which the car had been created, Mark Donohue drove this car to a closed course world speed record of 221 mph (356 km/h) at the Talladega Superspeedway (then called the Alabama International Motor Speedway). It was capable of over 250 mph (402 km/h) on the straights. These marques dominated the series for most of its existence; other vehicles occasionally appeared but were essentially making up the numbers. Well-established European manufacturers like Ferrari and BRM appeared at various times with little success, March tried to get a share of the lucrative market in 1970-1 but couldn't establish themselves, and Ford flitted across the scene with a number of unsuccessful cars based on the GT40 and its successors. Americam specialist marques like McKee and Caldwell competed, alongside real exotica like the astonishing four-engined Macs-It special.
McLaren 8 - #31 was looking good and rocking the track.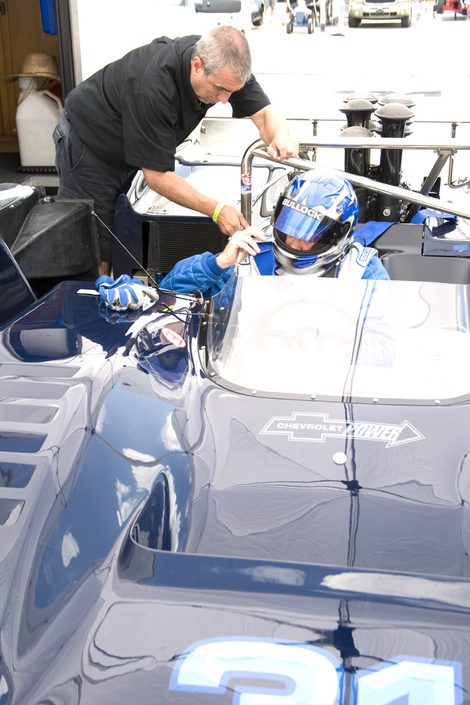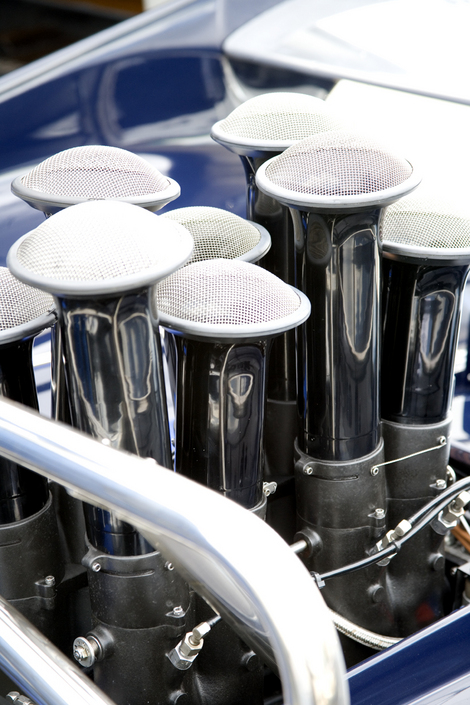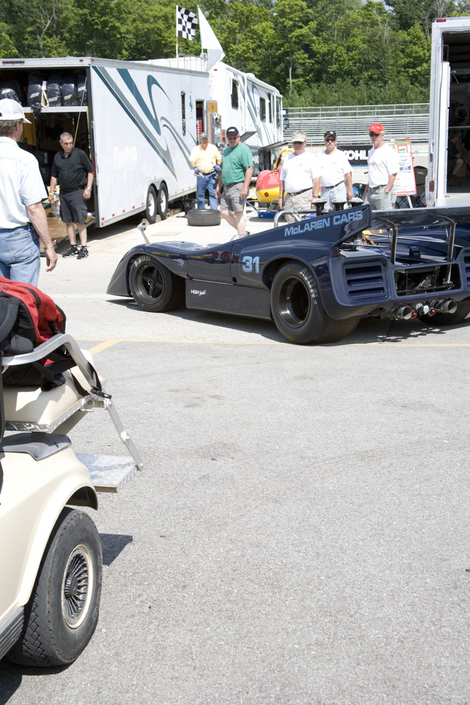 Another very rare and incredible beautiful Allarad J2x-c raced by Toad Hall Racing was a sight to see. Built to run in Group C in 1992-1993 one of the most exciting times in racing but politics got in the way as the FIA changed Group C rules in a bid to attract more manufactures to Formula 1 which it did but also had an adverse effect on sports car racing. Here are a couple of shots from this wonder "piece of art".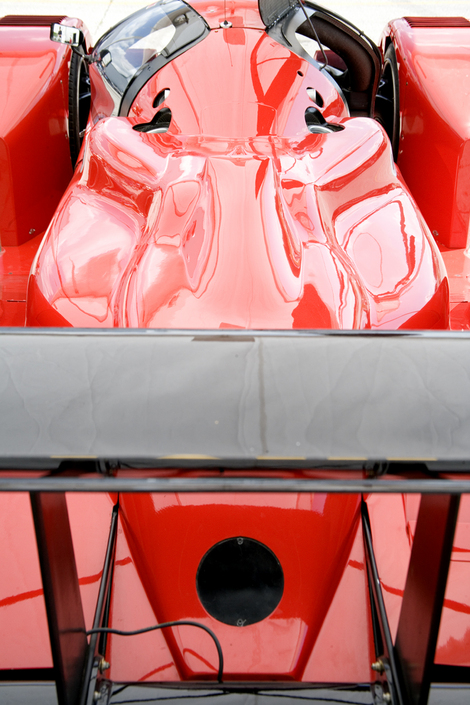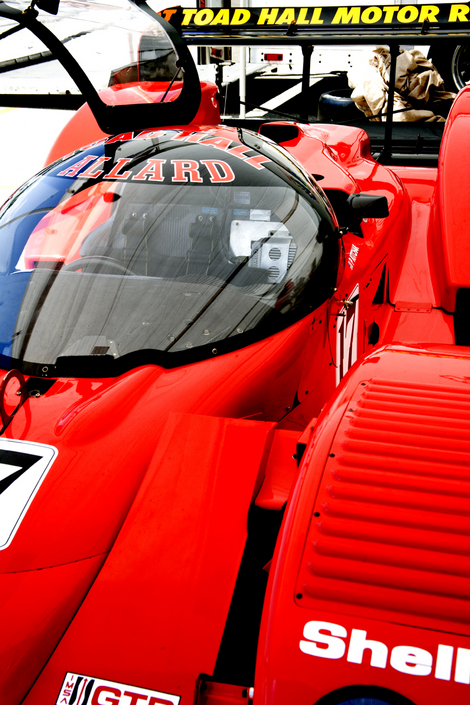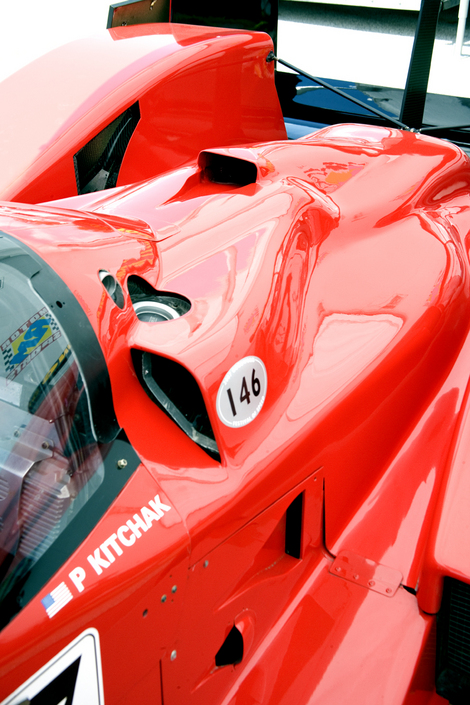 Posted 08/11/08 @ 12:02 AM | Tags: Road America, Kohler International Challenge, Cam-Am, Vintage Racing, Brian Redman, Lola, Formula 5000, Scarab, Historic GP, Elkhart Lake, McLaren, Allarad, Shelby GT40, FIA