Growing out of the idea of creating a cool ride on the cheap, Volkswagens fit right in with the Rat Rod and Hot Rod crowd.
Creativity and craftsmanship are fully present in these wonderful rides. A prevalent look is the So Cal Look. "The So Cal Look is pure hot rod at it's most basic" - So Cal Official Site: www.socalook.com
Rat Rods and Hots Rods open wheeled (sometimes fendered) vehicles that are often dropped, chopped, sectioned, channeled, smoothed, and shaved. Infinite possibilities
With traditional hot rod and custom builds costing more and more these days - you have to have deep pockets. Depending on the size of your bank account you can spend any where from 60-120k on a turnkey Rod or upwards of 500k or more for something totally custom. Even Rat Rods are getting more expensive as their popularity grows. Of course look and how well their put together matters a lot but some are already selling for 20k - 30k or more. Not bad for ratty rides.
The VW Rods on the other hand seem to be very reasonable depending what design level you want to achieve. The couple I have seen at sites and auctions were under 10k and one I will show later was 4.25k. For the younger people just getting into the car scene these are reasonable obtainable and look like fun to drive.
Still others I found that have a very finished look and a lot of detail are easily in the 30k - 40k range I would imagine perhaps more depending on the engine and it's goodies. You can easily spend 10k - 15k for a major horsepower VW motor alone.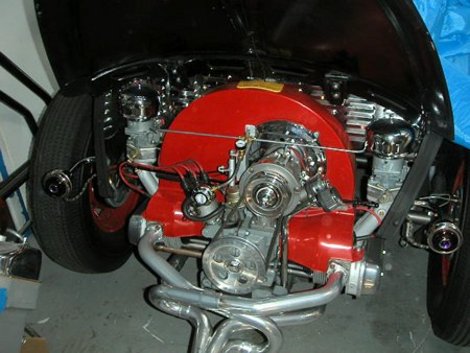 This beautiful black rod is based on a 1964 VW known as "StinkBug."
Body: Top chopped 6" All molding removed and holes filled. Door handles removed. Inner fender wells filled and smoothed. Front and rear fender "horns" removed. Front wells relieved and new "trunk" to support 10 gal spun aluminum gas tank. Hot Rod style headlights on fabricated brackets. Taillight housings adapted from 1940 Packard.
The rest of the stats read like a well engineered car with creative solutions for such things as the front end. 32 Ford "diego dropped" I-beam front axle with a dropped steering arms on stock spindles including tube shocks, leaf spring, hairpins, tie rods, spilt wishbones, and Wilwood disc brakes. Look at those Ford wired wheels. This car is a fine example of this trend and I would not consider guessing what it cost to build in time and money. It is Very Cool and beautiful piece of art.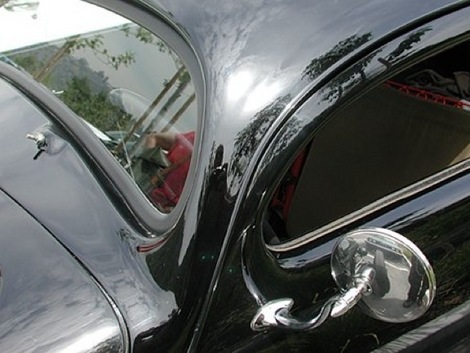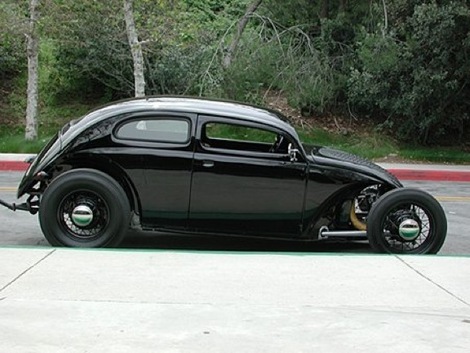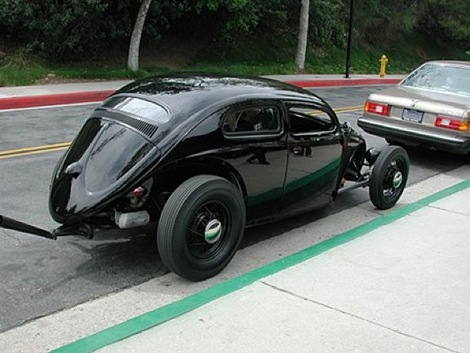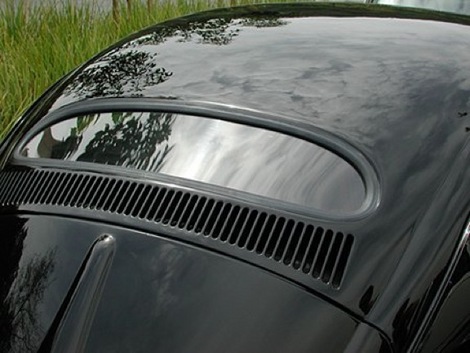 On the other side more Rat than the later is a Bug I found for sale for $4,250.00 which I thought was pretty reasonable you decide. This car has all the right cues from steel wheels and hubcaps to diamond stitched seats. A cool detail for example has the exhaust direct toward the front and dumping out before the rear tires.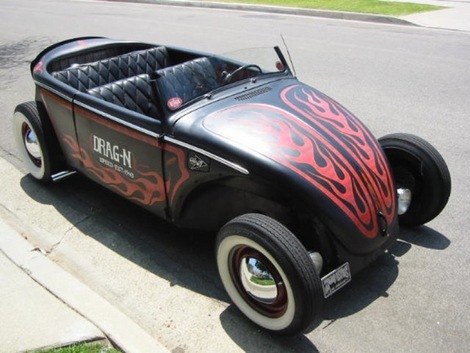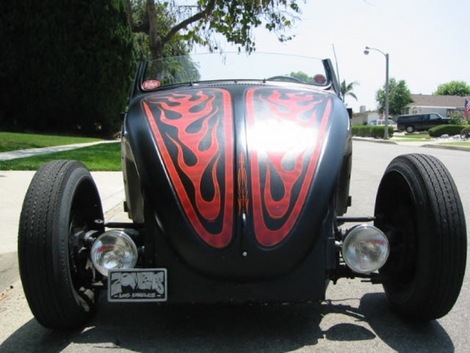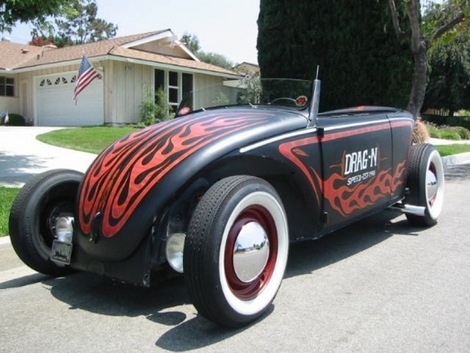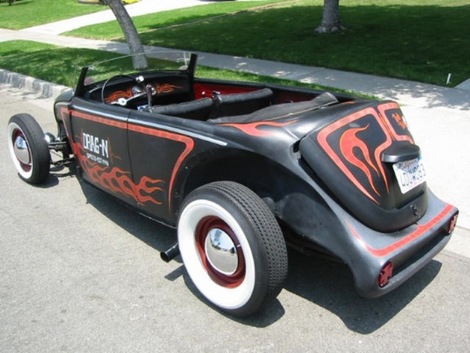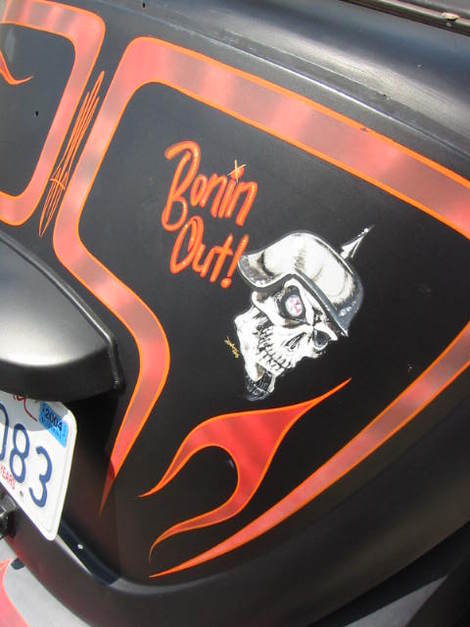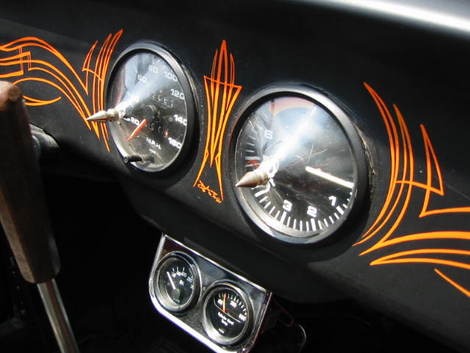 Some other random designs and cars I found to illustrate the creativity and craftsmanship going on with this crowd.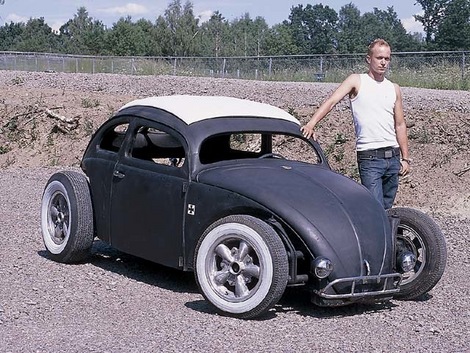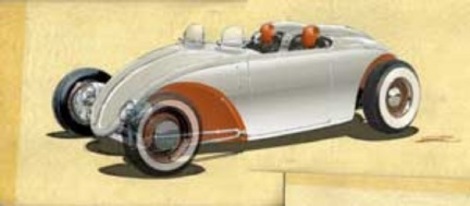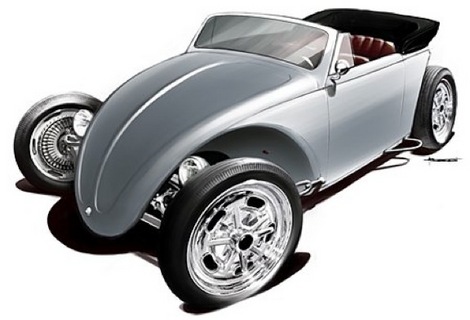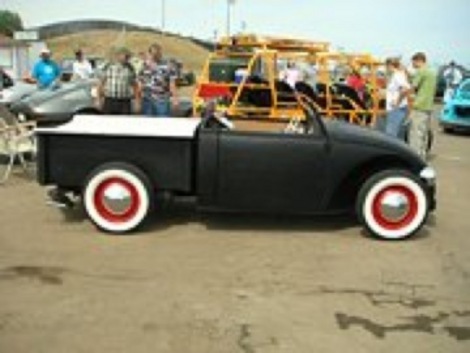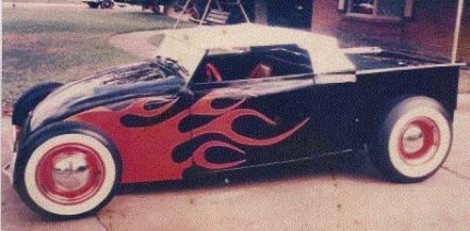 Here is another very nice and well done car from the UK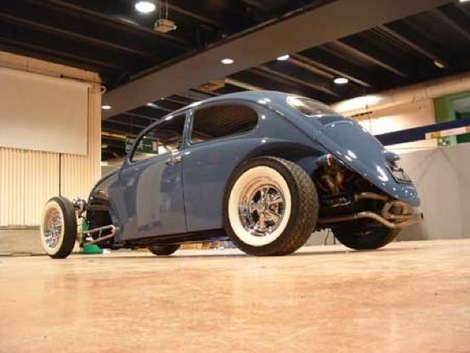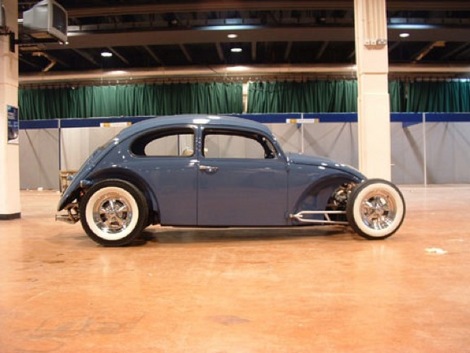 Even the buses are being customized some radically.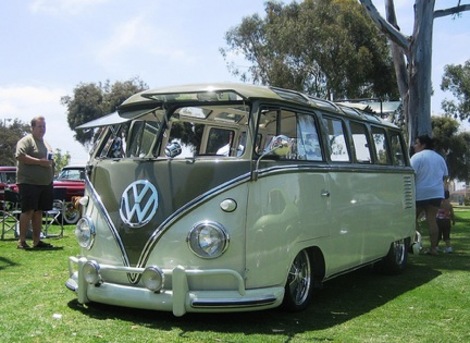 I hope these wonderful cars continue to grow in numbers and popularity.
Here is a film from Brazil about making a "Bad Bug."
These are some very cool designs and incredible rides.
A very short look at another cool car
The motor of this fantastic looking VW rocks with a very throaty sound. VERY COOL!!!
"Death" says it all.
"The Drug Smuggler" a wild utility bus
Posted 08/25/08 @ 04:14 PM | Tags: Ratrods, Rat rods, Hot rods, Customs, VW Rods, Volkswagen Hot Rods, VW the So Cal Look, Affordable VW Rods, VW Rat Rods